By
Phil
- 9 April 2015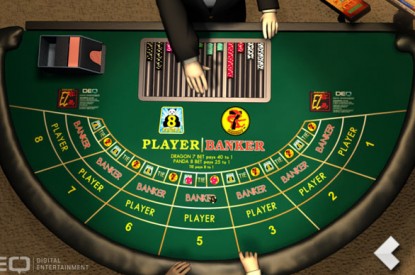 DEQ Systems and LT Game, a subsidiary of Paradise Entertainment, have formed a global partnership to deliver DEQ's EZ Baccarat game on LT Game's Live Multi-Game systems worldwide and the table game in Asia-Pacific.
The partnership draws on the distinct strengths of each company: DEQ's popular and leading baccarat brand of EZ Baccarat, fused with LT Game's global market presence of LMG systems and the group's extensive experience in Asia's mass market.
LT Game has approximately 3,900 LMG terminals installed around the world, 3,600 of which are in casinos in Macau, which provide a wide platform for EZ Baccarat to be available for the first time on electronic terminals and also marks the first time the table game will be distributed in Asia-Pacific regional markets including Macau, Australia, Cambodia, and among other countries.
EZ Baccarat is a leading baccarat brand with over 7,000 player positions to date. The game accounts for over 90 per cent of the baccarat market in California and has an established and growing presence in Las Vegas, Vancouver, Canada and throughout North America. EZ Baccarat is also currently available at MGM Macau and Wynn Macau.
"LT Game is one of the leading suppliers of electronic table games and this agreement will enhance the market penetration of our EZ Baccarat game by making it available on their LMG systems worldwide and table game positions in Asia. This is another strategic step for DEQ, as we continue to focus on making EZ Baccarat easy for players around the world to enjoy by working with established partners to place our content on new platforms and in new markets," said Joseph Bertolone, DEQ president and CEO.
"Paradise is committed to making the best and most entertaining table game products for casino operators and their guests," said Jay Chun, Chairman and Managing Director of Paradise Entertainment.
"Our new distribution agreement with DEQ to bring the popular EZ Baccarat game to our LMGs and as a new table game offering in the Asia-Pacific market reflects our initiatives to further address the changing table game demands and preferences of the marketplace. We believe the entertainment value that the EZ Baccarat game brings to players in North America, as evidenced by its large installed player positions and steadily growing popularity will translate successfully to both our LMG offering and as a standard table game product for casino operators in the Asia-Pacific market. We are excited by the opportunity to bring players another new and exciting gaming experience."
EZ Baccarat is a baccarat game created and developed by Robin Powell and Francisco Tejeda of Talisman Group. The game employs a revolutionary method of accelerating the speed of baccarat by eliminating the commission. Players can also make optional side wagers called Dragon 7 and Panda 8. The Dragon 7 is when the Banker wins with a total of seven consisting of three cards and pays 40 to 1. The Panda 8 is when the Player wins with a total of eight consisting of three cards and pays 25 to 1.
Mr. Powell added: "Asians players, particularly Chinese, are wild about EZ Baccarat because the game was respectfully designed with them in mind. Our partnership with LT Game enables us to bring EZ Baccarat to the largest baccarat mass market in the world."