By
Phil
- 4 March 2019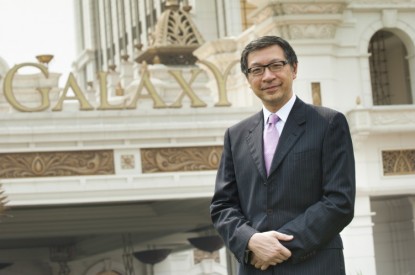 Macau operator Galaxy Entertainment has said it will spend a further HK$1.5bn on upgrades to its two Macau casino resorts Galaxy Macau and StarWorld with significant improvements to older product offerings, and renovations to VIP rooms.
Galaxy made the announcement during its fourth quarter and full year results release when it saw revenue improve by 14 per cent year-on-year to HK$55.2bn and adjusted EBITDA by 19 per cent to HK$16.9bn.
Galaxy said it continues 'to move forward with Phases 3 & 4, with a strong focus on non-gaming, primarily targeting MICE, entertainment, family facilities and also including gaming.' This latest investment 'not only enhances our attractiveness, but also includes preparation work for the effective future integration and connectivity of Phases 3 and 4' which will see a further 4,500 hotel rooms come on board alongside 400,000 square feet of MICE space, a 500,000-square feet 16,000-seat multi-purpose arena, F&B, retail and new gaming space. Phase 3 should begin opening by the second half of 2020.
It added that plans were moving forward in Hengqin to develop a' low-density integrated resort to complement our high-energy entertainment resorts in Macau.'
Net profit for the year was up 29 per cent year-on-year to $13.5bn. Galaxy Macau's Adjusted EBITDA was $12.9bn, up 16 per cent year-on-year. StarWorld Macau's Adjusted EBITDA was $3.8bn, up 28 per cent year-on-year. Broadway Macau's Adjusted EBITDA was $32m versus $10m in 2017.
Galaxy said it experienced bad luck in its gaming operation during 2018, which decreased its Adjusted EBITDA by approximately $484m. Normalized 2018 Adjusted EBITDA grew 22 per cent year-on-year to $17.3bn.
Full Year Net Revenue at Galaxy Macau came in at $39.5bn, up 14 per cent year-on-year, revenue at StarWorld was up 18 per cent to $12.2bn whilst Broadway Macau saw its revenue increase by nine per cent to $562m.
Dr. Lui Che Woo, Chairman of GEG said: "We continue to drive every segment of the business with a particular focus on the mass business and continue to allocate resources to their most efficient use. Our efforts are reflected in full year Adjusted EBITDA of $16.9bn. This was despite continuing competitive openings in both Macau and regionally and a number of geo-political and economic issues that impacted consumer sentiments. Our cash and liquid investments were $45.8bn and net cash was $37bn. During the year, we purchased a minority equity stake of approximately 4.9 per cent of Wynn Resorts.
"We are pleased to announce another special dividend of $0.45 per share to be paid on or about 26 April 2019. Additionally, the Group paid two special dividends of $0.41 and $0.50 per share in 2018. The Group will continue to focus on both our Macau development plans and international expansion ambitions," he added. "During 2018, Macau experienced another strong typhoon in September which resulted for the first time in the closure of casinos for a modest period of time. Due to the careful planning by the Macau government, damage to Macau and properties was minimal and there were only minor personal injuries but more importantly there were no fatalities."
Dr. Lui said investor sentiment throughout 2018 experienced periods of volatility. "This was a result of a number of geo-political and economic issues such as global trade tensions, the slowing Chinese economy, rising interest rates, currency fluctuations and also the introduction of smoking restrictions, to name a few. Despite the above, GGR for full year 2018 was $294bn, up 14 per cent year-on-year. Quarterly GGR in Q4 2018 was $76.5bn, up nine per cent year-on-year and up seven per cent quarter-on-quarter."
In 2018, visitor arrivals to Macau were 35.8m, up 10 per cent year-on-year, in which visitors from Mainland China grew at a faster rate of 14 per cent year-on-year. Overnight visitors accounted for 52 per cent of total visitation. The average length of stay for overnight visitors increased 0.1 day year-on-year to 2.2 days. The visitation growth in 2018 was also assisted by the improvements in infrastructure, including the opening of the Hong Kong-Shenzhen-Guangzhou high speed train, the Hong Kong-Zhuhai-Macau Bridge and further relaxation of visas for Mainland Chinese to enter Macau.