By
Phil
- 31 October 2014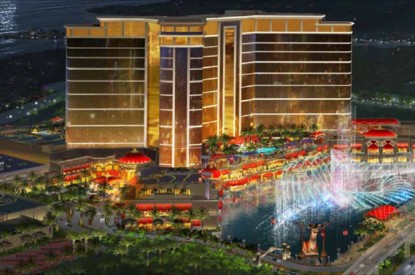 Revenues were up in Las Vegas for Wynn Resorts in the third quarter but not by enough to save the operator from three tough months in Macau.
Combined revenue for the two markets fell by 1.4 per cent to $1.37bn in the quarter whilst net income increased by five per cent due to lower expenses.
Net revenues in Macau came in at $942.3m, a 5.6 per cent decrease from the third quarter of 2013.
The VIP sector was hit hardest whilst the mass market sector gained impressively. Table games turnover in the VIP segment was $25.1bn for the third quarter of 2014, a 17.4 per cent decrease from $30.3 billion in the third quarter of 2013.
CEO Steve Wynn said: "I don't know whether it is a squall or we are in the rainy season or how long it will last, but we are still very, very bullish on Macau."
Table games win in the mass market segment meanwhile increased by 36.4 per cent to $327.2m in the third quarter of 2014. Slot machine handle of $1.4bn for the third quarter of 2014 was 23.2 per cent above the prior-year quarter, and slot win increased 31.9 per cent compared to the prior-year period. Win per unit per day was 97.1 per cent higher at $1,358, compared to $689 in the third quarter of 2013, due in part to a reduction in the number of units on the casino floor.
Mr. Wynn believes the smoking ban might drive VIP play at its $4.1 billion Wynn Palace development in the Cotai region of Macau due to the fact that it is being designed with outdoor terraces linked to high-roller areas of the hotel looking out over its lake.
"We are going to put all of our premium VIP business of every description looking at the fountains and the water show," Mr Wynn explained. "Every one of them will have bathrooms, food, and smoking balconies. This is going to turn out to be a windfall kind of event Because folks are going to be able to gamble and step outside, look at the water; and if they have got a yen to continue to smoke, they will be able to do so outside. We are very advantaged by the basic plan of the Palace, which puts all of the important gambling with terraces. It turns out to be quite fortuitous. I wish I could take credit for having thought of it in advance, but it just worked out right. We didn't expect that the government would act as aggressively and dynamically as they have on the smoking issue."
"We expect to open our resort on Cotai in the first half of 2016," he continued "We think that it is going to be a very wonderful addition to the market in terms of attracting people to Macau."
The smoking ban has affected revenue but not as much as expected.
Wynn Resorts Macau President Ian Coughlan said: "We've just had a couple of weeks to gauge it, and a couple of weeks after Golden Week, so I still think it is early days. There is no doubt going to be an effect but I think it is the least of our concerns in terms of revenue drop-off. We are all still engaged with the different departments of government in finalizing how our smoking areas and non-smoking areas are divided. It is still a discussion that is ongoing. The players have reacted very well to it. The smoking rooms that we've established at Wynn Macau have been very successful. We are in the process of establishing an additional smoking room based on location. But overall, I wouldn't say that that has had a huge effect on business. There has been some affect, but it has been marginal."
Mr Wynn added: "I think that technology, as we go forward, is going to play a part in this. Right now, the air in the Wynn Casino before they stopped the smoking was better than the air outside the Wynn Casino in the street, in terms of general public health. With advanced air exchange methodology and technology, we are able to keep the employees free of any potential impact of secondary smoke. In conversations with the Culinary Union there is no evidence whatsoever of any increase in emphysema, lung cancer, or any other respiratory complication associated with working in a casino compared to the general public."
Revenues in Las Vegas were up nine per cent in the third quarter. Mr Wynn said: "With regard to Las Vegas, we were very happy with this quarter. It is a continuation of what we have seen in the past. All of our metrics have improved for the previous — for the running 12 months. I think our EBITDA was $520m. If we can hold on during fourth quarter, we ought to be able to get to the five I hope in the calendar year this year."
For the quarter ended September 30, 2014, net revenues were $427.8m, up from $392.5m in the third quarter of 2013.
Table games drop of $640.9mwas down 5.2 per cent from $676.3m in the 2013 quarter. Table games win percentage was 25.7 per cent, above the property's expected range. Slot machine handle of $788.1m was 7.4 per cent above the $733.5 million in the comparable period of 2013, and net slot win was up 3.5 per cent.