By
Phil
- 7 July 2015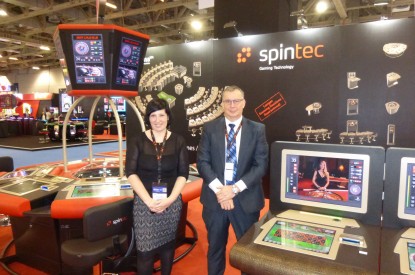 Slovenian manufacturer Spintec has enjoyed remarkable success in Macau where it claims to be the number one supplier of automated American roulette games.
Petra Remec, Regional Sales Manager, said: "We completed our first install in Macau in 2013 and since then we have supplied our Karma range to Mocha Clubs, owned by Melco, as well as to Galaxy and Sands. A further 32 playing terminals have gone live at Galaxy Macau Phase 2. We have lots of orders in the pipeline with the new openings and expect another 20 carousels to be installed in the coming year. Macau is one of the toughest, most competitive markets in the world so we are delighted to have been so successful. Elsewhere we are strong in the Philippines with our most recent install at City of Dreams Manila. We have had good exposure in India in Goa and Daman and will be entering the Australian market very soon."
Spintec is hoping its new Stand Alone Virtual Roulette will soon be entering these markets.
"We have used this show to gain feedback on the product," Ms Remec added. "The feedback once again proved that we are among the industry leaders in creative solutions for operators and players. We are grateful for all the support and all business partners, operators and visitors that visited us and shared a piece of success with us. Success in Asian markets is the proof of hard, dedicated work and impeccable, quality driven products, which Spintec has been dedicated to since its inception."