By
Phil
- 28 November 2022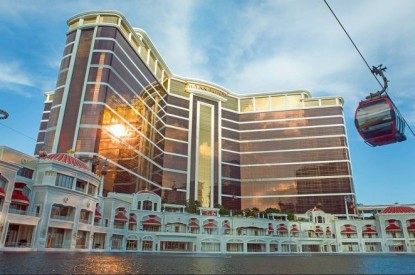 The six existing licence holders in the Macau casino sector have had their concessions tentatively renewed with a bid from Genting rejected. The news saw the biggest ever jump in the share prices of the American-based operators Wynn Resorts, MGM and Las Vegas Sands.
The new licenses will kick in at the start of 2023 for a duration of 10 years. Operators have promised to diversify their offerings with more spend on non-gambling attractions. Shares in Wynn jumped 15.14 per cent, MGM China went up13.06 per cent, Sands China increased 8.42 per cent, Melco climbed 8.17 per cent, SJM by 6.96 per cent whilst Galaxy Entertainment climbed just 0.47 per cent.
Secretary for Administration and Justice Cheong Weng Chon said: "The operation and development of our gaming industry has come to a certain scale today, but there are also some problems. For example, the source of our tourists is too concentrated. It's not healthy."
Wynn Resorts stated: "Wynn Resorts is pleased to announce that Wynn Resorts Macau received a provisional award of a gaming concession from the Macau government. The ultimate award of the gaming concession contract remains subject to the final documentation of its exact terms and conditions with the Macau government."
MGM added: "MGM Grand Paradise would like to express our sincere gratitude to the Government of Macao Special Administrative Region for granting us the provisional award of new gaming concession, allowing us to contribute to the future development of Macau's integrated tourism and leisure industries.

"We fully devote to the Macao SAR. We will continue to develop the city with our strengths and contribute to the non-gaming industry, meanwhile making vigorous efforts in expanding the tourist markets from foreign countries," it added. "With confidence in the future of the Macao SAR, we firmly believe in Macau's full recovery and continue to grow, becoming even stronger as a holistic tourism destination. MGM Grand Paradise will continue to work with all sectors of the society to a new chapter in the development of tourism, leisure, and entertainment and create a milestone of "Integrated Tourism in Asia."
Sands China commented: "The Board is pleased to announce that on November 26, 2022, the Company's subsidiary, Venetian Macau Limited was provisionally awarded a gaming concession for the operation of
casino games of chance in Macao, subject to finalizing and entering into a gaming concession
contract with Macao. The final terms and conditions of the gaming concession contract remain
subject to further discussions with the Macao government. The entry into the gaming concession contract is conditional upon, among others, VML fulfilling certain capital and management participation requirements under the Gaming Law."
Melco's Chairman and Chief Executive Officer Lawrence Ho commented, "We are honored to have been selected and granted a provisional award for the concession to operate gaming in Macau and would like to thank the Macau government for running a smooth and transparent process. We are committed to Macau and its development as Asia's premier tourist destination."
The only loser was Genting who had tried to enter the market. JP Morgan analyst DS Kim said: "We think they might still want to participate via equity or joint venture investment if prices are right and the government is okay."
Speaking of the successful, existing candidates, Kim added: "We think this could serve as a strong stock catalyst because many investors – especially long-only – were largely staying away from the sector given this 'tail risk'. This is still a 'provisional' license, as the operators will now need to review and sign the contract to have it to be effective for the next 10 years, but recall most of the contentious issues on the next license are already addressed (e.g. gaming tax of 35 per cent to 40 per cent vs current 39 per cent, no explicit restriction on dividend, very reasonable table caps etc).
"The only known unknowns are: minimum investment requirements for the next 10 years (we estimate US$2bn to US$3bn+ per operator, with bigger operators such as Galaxy/Sands spending on the higher ends; see our note), which we expect to be fairly reasonable; and annual concession premium (vs. currently ranging from US$15m to US$45m, subject to the number of tables/slots), which we also expect to change incrementally and reasonably."
"Now that the major tail-risk is out of the way, investors can finally focus on fundamentals such as directional improvement in EBITDA/FCF into 2023 (we still expect sector EBITDA to turn positive in 1Q23) and valuations."
Revenues at Macau's 41 casinos for the year so far are still down by 50.5 per cent with the year expected to end weakly due to more COVID cases in China.