By
Phil
- 24 April 2015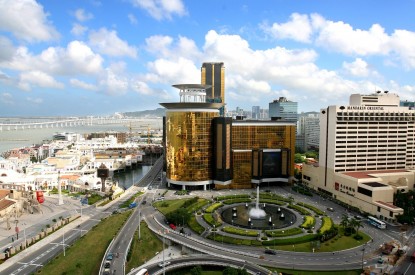 Las Vegas Sands saw its first-quarter earnings drop by 34 per cent due to poor results in Macau where its four casinos reported a decline in net revenue of 35 per cent.
Revenue at Sands China crashed to $1.77bn. Overall, Las Vegas Sands saw a profit of $511.9m down from $776.2m from a year earlier.
Sheldon Adelson, Chairman and Chief Executive Officer, said: "While the operating environment in Macao, particularly in the high-end gaming segments, remained challenging during the quarter, our focus on the higher margin mass and non-gaming segments and the geographic diversification of our cash flows allowed us to deliver in excess of US$1bn of Adjusted Property EBITDA during the quarter. Despite the current headwinds in the Macao market, we remain steadfast in our focus on the consistent execution of our global growth strategy, which leverages the power of our unique convention-based Integrated Resort business model.
"Our convention-based Integrated Resort business model appeals to the broadest set of customers, generates the most diversified set of cash flows, delivers the industry's highest revenue and profit from non-gaming segments and brings the greatest economic and diversification benefits in the industry to the regions in which we operate. We remain confident that the continued execution of our strategy will further extend our position as the global leader in Integrated Resort development and operation and enable us to deliver strong growth in the future.
Despite the softer gaming market in Macao, The Venetian Macao continued to enjoy Macao market-leading visitation and financial performance. The property generated adjusted property EBITDA of $269.9m with an EBITDA margin of 34.3 per cent.
Mr. Adelson added: "The Macao market saw strong visitation from mainland China during the quarter and we enjoyed solid visitation to our Cotai Strip properties. We welcomed over 16m visits to our Macao property portfolio, delivered strong growth in the high-margin retail mall business and steady performance in most of the other non-gaming segments of our business. Notwithstanding a challenging environment in the VIP and premium mass gaming segments, we delivered $527.7m in adjusted property EBITDA across our Macao property portfolio. We remain confident that our market-leading Cotai Strip properties, which will be complemented in the future by The Parisian Macao and the St. Regis tower at Sands Cotai Central, will continue to provide the economic benefits of diversification to Macao, meaningfully enhance the appeal of Macao to business and leisure travellers and provide an outstanding and diversified platform for growth in the years ahead."
In Singapore, adjusted property EBITDA decreased to $415.3m in the first quarter of 2015, reflecting modest growth in mass gaming and retail mall revenues, offset by a decrease in Rolling Chip win during the current quarter.
Adjusted property EBITDA at The Venetian Las Vegas and The Palazzo, including the Sands Expo and Convention Center, was $74.1m for the quarter, a seven per cent decrease compared to the first quarter of 2014. Table games drop, which reflected a solid quarter for non-Baccarat play, increased 2.8 per cent in the quarter to $533.1m, while slot handle increased 22.3 per cent to $578.5m.
Net revenues for Sands Bethlehem in Pennsylvania increased nine per cent to $127.7m and adjusted property EBITDA increased 12.8 per cent to $29.9m for the quarter. Table games drop increased 6.4 per cent to $263.4m for the quarter, while table games win percentage was 17.3 per cent, which was higher than the 16.1 per cent realized in the first quarter of 2014. Slot handle increased six per cent year-over-year to $1.01bn for the quarter with slot hold percentage of 7.1 per cent.