By
Phil
- 25 February 2015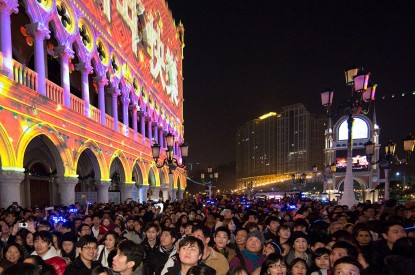 Macau's Secretary for Social Affairs and Culture of Macau, Alexis Tam Chon Weng, is considering introducing a quota on individual visitor schemes (IVS) to avoid Macau's capacity from going beyond its limit.
Tam wants the restriction to be implemented this year.
Analysts at Nomura said that once the proposal is approved, Macau is likely set a quota for the IVS, so it is believed that the number of Mainland visitor arrivals will fall during popular seasons, such as the CNY and October Golden Weeks. The proposal would see the number of VIP and mass players both affected.
Nomura said: "Beijing has clarified that it wants Macau to be diversified with less reliance on gaming. Consequently, we believe that the visa policy should: control the number of frequent gamblers; bring convenience for normal visitors; and benefit Macau's economy and Macau citizens' life.
"If the proposal is passed, it is likely that Macau will limit the number of visitors under the individual visit scheme (IVS) quota for mainland Chinese visitors," they added. "The number of visits under IVS during peak seasons such as Chinese New Year and October's Golden Week will more likely be reduced. Mr Tam did not mention about putting any cap on group visas, which accounted for around 47 percent of total Chinese visitors in 2014, with very few frequent gamblers opting for this."
Analysts Stella Xing, Wendy Liu and Harry Curtis, said: "The cap proposal confirms our view that more tightening policies will be issued. We remain cautious and believe that the sector has not yet bottomed outShares in Macau casino operators dropped in Hong Kong trading due to weak gambling over the Lunar New Year holiday period.
Wells Fargo said it expected weak revenue in both VIP and mass segments, with a number of mass tables empty for periods over the Lunar New Year, which began on February 19.
Credit Suisse analyst Kenneth Fong said: "We believe the situation is likely to deteriorate in the coming months. On the VIP side, with more junkets shutting down business post Chinese New Year and working capital in the system shrinking, revenue may see another leg down."
Analysts at Daiwa Capital Markets added that revenue was 'exceptionally lacklustre' and that they expect the market to hit a five year low this quarter.