By
Phil
- 27 January 2017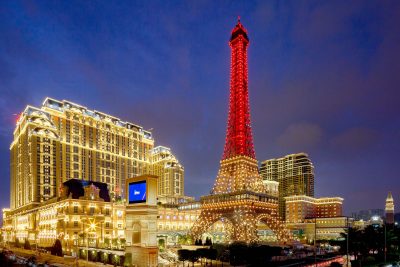 The opening of the Parisian in Macau has helped boost Sands China's mass gaming segment by 16 per cent, giving the company its strongest growth in the segment since the second quarter of 2014.
However a mystery female gambler dented that growth after a huge winning streak in the casino, so much so that she was even mentioned in the Las Vegas giant's earnings call.
Rob Goldstein, President of Las Vegas Sands, the parent company of Sands China, said: "She wins every day. She is doing very well and affected the numbers."
Sources say the women has won millions of US dollars since the Parisian opened in September and that the other five major casino operations in Macau – namely Wynn, SJM, Melco, MGM China and Galaxy have informed staff to look out for her.
The biggest fear is that as her status grows other gamblers may follow her at mass market gaming tables and mirror her bets.
Overall the Parisian Macao generated adjusted property EBITDA of $95m during its first full quarter of operation.
Sheldon Adelson, Chairman and CEO, said: "We are pleased The Parisian Macao, our latest Integrated Resort delivered $95m in adjusted property EBITDA during its first full quarter of operation and quickly established itself as another 'must see' destination for visitors to the Cotai Strip. To date we have invested approximately $13bn in Macau, contributing to Macao's diversification and appeal as a business and leisure tourism destination. Our Cotai Strip property portfolio, which has been meaningfully expanded by the opening of the Parisian Macao, generated growth of 16 per cent in the mass gaming segment. This result was our strongest growth in Macao's most important and profitable segment since the second quarter of 2014. The Macao market overall continued its recovery in the fourth quarter, while our Macao portfolio generated visitation growth of 23 per cent and higher hotel occupancy rates."
Mr. Goldstein added: "We're somewhat surprised at the strength of the premium mass demand for the Parisian. We positioned it more as a mass property. We're rethinking the room mix, we're adding some more suite product. It won't kick in until late in '17. My point is that we're just so pleased at the results thus far. Two billion people have now gone online to look at the Parisian. That's a staggering number from anyone's perspective. We think we've been vindicated so far in what we've done with Parisian because its performance is pretty good for a starting property. We're thrilled by the premium mass demand. The Parisian is going to be a machine of mass table play. It has some great days ahead of it."
Mr. Adelson outlined that the company's own research suggests that whilst the Venetian remains the most visited casino in Macau, the Parisian has already come into second place.
"Our Parisian Macao social media program has now exceeded 2bn impressions," he said. "This awareness is translated into strong property visitation. Based on our customer surveys at the various points of entry in Macao since Parisian opened, the most visited casino resort in Macao remains the Venetian, but in second place was the Parisian."
Over all, the operator's fourth-quarter profit including operations in the US, Singapore and Macau increased by nine per cent to $509m whilst revenue increased by 7.4 per cent to $3.08bn.
Mr. Adelson explained: "We are pleased to have delivered a solid operating performance in each of our markets, which enabled us to generate $1.12bn in adjusted property EBITDA for the quarter, an increase of 6.1 per cent compared to the fourth quarter of 2015.
Marina Bay Sands in Singapore delivered $366m in adjusted property EBITDA, an increase of eight per cent compared to the same quarter last year, fuelled by a consistent mass win-per-day of $4.59m.
At The Venetian Las Vegas and The Palazzo, including the Sands Expo and Convention Center, adjusted property EBITDA grew 14.4 per cent to $111m compared to the fourth quarter of last year. Revenue growth of three per cent reflected modest top-line increases in all business segments.