By
Phil
- 5 August 2014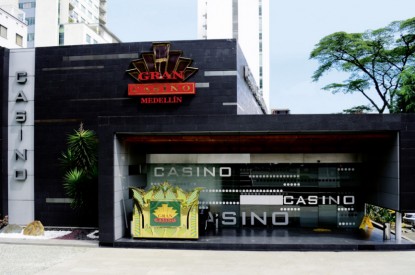 AGI Gaming Colombia, a subsidiary of Novomatic Group, has reported great success following installs at two Colombian casinos owned by Sociedad PromotoraTurística de Medellín; Gran Casino Medellin and San Remo Casino.
Novomatic has installed games such as Coolfire I, Coolfire II and Novoline Interactive platforms with a variety of cabinets that range from the classic Gaminator to modern upright machines such as the Novo Super-Vision or the revolutionary Dominator, to elegant Novo Star SL Slant Tops, offering the guests a sophisticated mix of games. The products at the new San Remo Casino already include the brand new Novostar VIP slant top with extra-large 46"-screens and its Crown VIP chair.
The first operation, El Gran Casino Medellin, is located in the so-called 'Golden Mile' in the most exclusive district of Medellín and is characterized by conveniently open spaces, premium equipment and a welcoming and friendly ambiance for its guests. It comprises a gaming offering of 10 live games and 156 video slots, among which are 60 Novomatic machines that account for 39 per cent of the game floor.
In May 2014 the second operation, San Remo Casino, was opened in the district of Aguacatala. With its lighter, modern and diversified concept and premium entertainment offering, it appeals primarily to an audience of the younger generation. It offers 12 live tables and 124 video slots, of which 46 are Novomatic machines (37 per cent of the slot floor).
In 2011 Novomatic's takeover of Octavian International gave it access to the former Colombian Octavian sales and service entity which was subsequently renamed AGI Gaming Colombia. With headquarters in Bogota, it offers a broad product range for the Colombian market and first class sales and after sales, as well as technical support for the customers and partners in the region.
The Sociedad Promotora Turística de Medellín was founded on May 11, 2004 in Medellín, Colombia, and represents the realisation of the dreams of a group of investors who aimed to create new jobs in a city that is subject to constant development. Today the company employs some 200 staff and is renowned as a business that commits to its social responsibilities, the individual development of its employees and premium customer service.
The business relations of AGI Gaming Colombia and the Sociedad Promotora date back to 2008 and are based on the excellent experience the operator enjoyed with the mathematical concepts of the Novomatic products: this at a time when they were still widely unknown in the Colombian market. In the meantime it has evolved into a mutual strategic partnership with Novomatic products being strongly represented in the casinos of the PromotoraTurística and consistently finding great favour with their guests.
Novomatic has developed its NOVO LINE Novo Unity II range of products. Their unique asset is a multi-game functionality that eliminates the boundaries between electronic live games and video slot gaming. At a single player terminal, the guest can choose to play a whole range of electronic live games as well as a video slot offering of Novomatic C all-star-gaming hits. These games score with their highly popular free games. The majority of the games feature free games that can be re-won during the feature.
The latest products such as the NOVOSTAR VIP and the Dominator cabinets offer a highly attractive style, ergonomic design and the new NOVOLINE-based games that guarantee game thrills and great wins.
Juan Henao, Managing Director of the Sociedad Promotora y Turística, commented: "As an operator we constantly thrive for a greatly varied gaming entertainment offering for our guests. We set great store by state-of-the-art technologies, comprehensible concepts and innovative products, both in terms of aesthetics as well as in terms of their winning chances. All this is completed by premium service for our guests."
Manuel del Sol, Managing Director of Gaming Colombia, added: "The gaming industry in Colombia is fortunate to be able to rely on professional and dynamic operators such as the Sociedad Promotora y Turística. We would like to use this opportunity to say 'Thank you' for their trust in Novomatic as the best represented brand in their casinos and we congratulate the Sociedad Promotora y Turística on their beautiful new San Remo Casino."