By
Phil
- 1 February 2016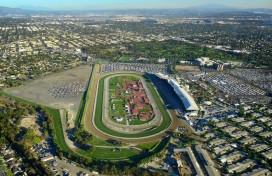 Amendments to Colombia's horse racing laws are already having a beneficial effect on the industry with the opening up of thirty betting shops scheduled to open later this year and a major racetrack set to open in April.
Amendments to Colombia's horse racing laws will cut taxes to just one per cent, extend licences for ten years and give local municipalities more say over the industry.
On 29 December, the government awarded the Hippodrome San Francisco SAS the right to operate horseracing in the department of Cesar. The 3,000 person capacity track will be run by a group of businessmen who will re launch the Racecourse San Francisco, near Valledupar. The track was also granted the right to offer its races online and is permitted to simulcast its races in betting shops throughout Colombia.
Manager of the Hippodrome San Francisco Julio Morón, said that the company intends a complete overhaul of betting shops throughout Colombia which he hopes will also appeal to a younger audience.
"We want to change the model of the horse racing industry. The betting shops were dark and ugly, full of cigarette smoke and ink and people betting. We want to create a franchise of horse race betting clubs where we will offer bets on other national and international races and we will provide services such as drinks, good food and good customer service. Our goal is to have 30 betting shops up and running in June 2016 of which 50 per cent will be in Bogota while others will be located in Medellín, Cali, Barranquilla, Eje Cafetero, los Santanderes and Valledupar."
Since 1990 a number of attempts have been made to increase investment in the industry but the new amendments are causing optimism that the industry could once more gain in popularity. According to John Paniagua, Commercial Director of the Hippodrome San Francisco, the track will benefit from "globalisation and new technology which make it easier to bring races in from other countries via the internet or satellite."
In its heyday the horse racing industry employed over 40 thousand people in Colombia but has been in sharp decline with a total of eleven tracks closing over recent years and there are now only a handful of thoroughbred breeders left. The industry was singled out for high taxes in the 1970's and 1980's with taxes ultimately reaching 30 per cent which meant that a large number of tracks were forced to close.