By
Phil
- 17 February 2014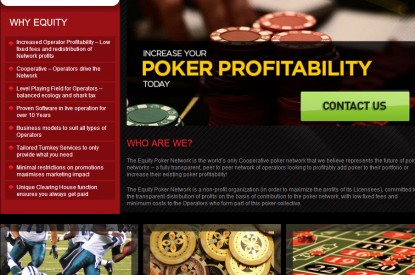 The EquityPokerNetwork.com took quick action, diligence, and professionalism from its Security and Fraud Department to stop a collusion ring in its tracks.
In the interests of transparency, the management team has informed all Network Operators that recent fraudulent activity has been identified, fully investigated, and subsequently shut down.
The EPN Fraud Team's diligence and procedures identified a potential issue, and they continued to monitor and investigate the irregularity. The outcome of this investigation has resulted in a number of accounts involved in perpetrating the fraudulent activity being permanently banned from the Network.
EPN will ensure that all players affected by this fraudulent activity are refunded, and the distribution of funds to these affected account holders will be facilitated shortly.
Integrity and security have been emphasised at EPN since launch in November 2013, and the Network's swift response to this episode of fraud is further evidence that EPN's Fraud Team is well equipped to handle such instances of illegal player conduct.
"The welfare of our players is our top priority and we will not tolerate cheating or any other form of fraud occurring on our Network. We take all precautions to safeguard our network, and to protect our players and their bankrolls. We are thankful that our highly skilled Fraud Team was able to identify this aberration, and deal with the perpetrators quickly and permanently," said an EPN Spokesperson.
Related Stories