By
Phil
- 1 May 2018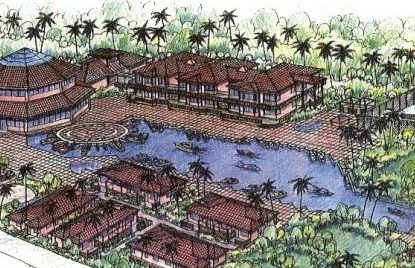 Canadian Developer Patti Rao Projects has announced the construction of a new tourist complex with three casinos in Costa Rica.
The new complex will be located north of Moín, Limón at the entrance to the Tortuguero Canals. The US$400m project will be launched under the name "Casino City Caribe."
The project will be made up of three hotels with a total of 264 rooms, three casinos, 219 apartments, two convention and cultural centres (one with capacity for 60 people, and the other for 150 people) as well as a marina and a helipad, a spa and wellness centre, an entertainment centre, a business centre, as well as a number of other recreational facilities.
The new project has already been approved by the local municipality and is supported by the Costa Rica Tourism Board as well as the Ministry of Environment. According to local daily Periódico La República, the construction of the new resort is scheduled for the beginning of 2019. It is expected to generate some 150 jobs during the construction phase and this will rise to as many as 1,500 once the resort is up and running in 2027.
Architect Patti Rao who heads the company said: "I want to help Limon and feel proud of the project. My goal is to contribute in some way with the development of Costa Rica."
If it were built today, the new complex would be the ninth most expensive real estate project in the country, not counting public and private infrastructure works, according to Rao. Rao stated that the location had been selected based on the potential of the area and the interest of his business associates in investing in Eco-tourism projects.
Casinos and gaming have been regulated as far back as 1922 and Costa Rican gaming law saw a major overhaul in 1997. By 1999, there were 21 casinos whilst in 2006 this had increased to 46 around the same number as there are today. The law for casinos was designed initially to boost tourism and casinos were permitted in hotels with the number of tables and slots dependent on the number of stars the hotel possessed. The majority of casinos in Costa Rica have around six table games and between 50 and 100 slots. The vast majority are located around the most well known beaches with another handful located in the capital.
In 2008, the government passed the revised "Law on Casino Taxation" which regulates both casinos and betting call centres in Costa Rica. According to the law, new casinos are only permitted in hotels rated four stars and above. The leading operator in Costa Rica is Spanish operator CIRSA. In March 2015, CIRSA bought seven Thunderbird owned gaming operations in Costa Rica, including seven casinos, twenty-one gaming tables and 1,200 slot machines in exchange for US$33.5m.