By
Phil
- 3 June 2016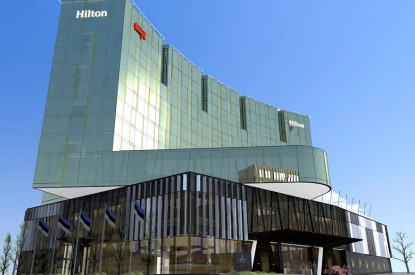 Olympic Entertainment Group has now opened its new hotel and entertainment complex in the centre of Tallinn.
The Group invested more than €45m in the building that accommodates the Baltic's first Hilton and the flagship casino of OEG.
Hilton Tallinn Park has a total of 202 rooms including 27 suits. The top floor of the building holds an executive lounge. The hotel has a conference centre with ten high-end meetings rooms and with one of the largest ballrooms in Tallinn, a spa with an indoor pool, and a restaurant with a bar and outdoor terrace.
OEG's new flagship casino is located on the ground floor of the building. Olympic Park Casino has separate areas for slot machines, casino tables, tournament poker and VIP players as well as a large bar area with a stage and a sports betting lounge.
The building is located in the centre of Tallinn next to Politsei Park, just a short distance away from the heart of Tallinn's historic Old Town. The building was designed by Meelis Press, the interior design solution was created by Vertti Kivi. Main contractor of the construction was AS Merko Ehitus Eesti. The hotel is operated by Hilton Worldwide.
Simon Vincent, Executive Vice President and President, Europe, Middle East and Africa, Hilton Worldwide, said: "More than 4.2m tourists visited Tallinn last year, with an increase in visitors from the UK, Germany, U.S. and Asia. Tallinn also continues to welcome thousands of travellers from Helsinki, Stockholm and St Petersburg every week across the Baltic Sea. We are delighted to be expanding our footprint to new countries and look forward to putting Hilton Tallinn Park on the map as a key destination for travellers and locals alike."
Andreas Lackner, Regional Head, full service brands, Europe, Middle East and Africa, Hilton Worldwide, said: "We are thrilled to bring Hilton Hotels & Resorts to captivating Tallinn, a city which combines the modern with the medieval. It is Hilton's latest flagship property in Northeastern Europe and incorporates striking modern elegance with all the Hilton touches our guests identify with, designating a landmark hotel for both Tallinn and Estonia".
In other news, the merger of OEG's Estonian subsidiaries, Olympic Casino Eesti AS and and AS MC Kasiinod has been completed. During the course of the merger AS MC Kasiinod merged with Olympic Casino Estonia AS. The aim of the merger was the adjustment of the group's structure.
The merger of the subsidiaries has no direct influence on the economic activities of OEG Group. The members of the management and supervisory boards of OEG have no personal interest in the transaction.
Erki Tavas, a highly experienced casino operations manager, has been given the role of Managing Director of Estonian subsidiary of Olympic Entertainment Group. Aigar Hain, the current Managing Director of Olympic Casino Eesti AS, will hand over his position during June.
Erki Tavas, has been working in the gaming sector since 1992. He joined Olympic Entertainment Group in 2003. Tavas has led OEG's flagship casinos in Estonia and Latvia and has been responsible for casino operations on different markets of OEG, most recently in Slovakia.
After successfully seeing through the process of launching OEG's new flagship casino, Aigar Hain, the current Managing Director of Olympic Casino Eesti AS, has decided to leave the company on his own accord, having planned this step for some time already.
As of the end of May 2016, OEG operates 24 casinos and employs more than 550 people in Estonia.