By
Phil
- 25 July 2022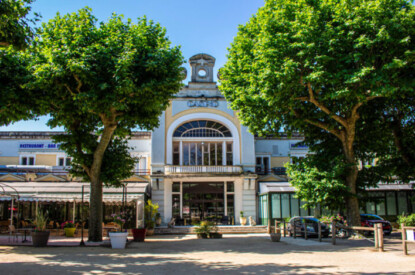 The Vals-les-Bains casino (Ardèche), whose owner, Circus group, was granted a new 20-year public service concession on May 4, has announced the group's development prospects in the Ardèche region with an investment of €17m.
A total renovation of the casino is planned, in consultation with the town hall of Vals-les-Bains, for an amount of €2.5m. In addition to bringing the electrical and technical installations into compliance, the creation of a second terrace is on the program for 2029. This new space will make it possible to open a fifth table for traditional games and increase the capacity of slot machines of the establishment at 150 units. The Circus group will add eight to 10 machines per year, which represents between €150,000 and €200,000 annually. From 2023, new concepts, such as a progressive Black Jack jackpot system, will bring additional attractiveness to table games. Finally, Circus plans to create CircusBet, an online betting site. A connected terminal will be installed within the Vals-les-Bains casino, in order to facilitate the player journey.
Alongside the games component, the creation of a car park with around 100 spaces is also part of the project. Located on a plot less than a kilometer from the casino, it would require the establishment of a non-polluting shuttle to transport customers between this place and the casino.
The 69th French casino in the 2020-2021 ranking, with a gross gaming product of €5.163m, is also considering the installation of around a hundred photovoltaic panels on the roof of the establishment, with an ecological and reduction objective. the cost of energy.

The Circus Sport Bar will also be developed at a cost of €500,000. The same amount is allocated to the renovation of the village hall. The largest part of the casino's investment envelope is allocated to the Helvie hotel and the restaurant Le Vivarais: €7.5m. The hotel will be completely renovated and will go from 27 to 42 rooms. Following the extension of the public service concession for 20 years within the Vals-les-Bains establishment, the Circus group has undertaken to pay the city an annual contribution of around €1.84m, or 25 per cent of the annual municipal budget.