By
Phil
- 9 April 2017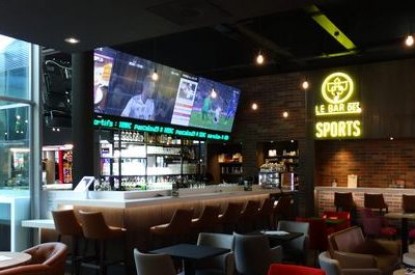 The Casino JOA in Montrond-les-Bains has launched its latest innovation, Le Bar des Sports, as part of an on-going strategy which has seen the average age of its customers decrease from 63 to 43 years in the last eight years.
Laurent Lassiaz, President of the JOA Group, said: "The more we develop non-gaming activities, the more we attract a new, younger clientele, as our will is also to rejuvenate the profile of our customers. The Sports Bar will allow us to pursue our ambition: to get people to understand our world as a distraction, a leisure and not just as a unique gaming destination."
Accessible to all, seven days a week, the Sports Bar features a wall of giant screens, in a 100 per cent digital live atmosphere, at any time of the day and every day of the week. With the JOA micro-brewery on site, customers can enjoy an artisan beer whilst watching on 16 screens.
Customers can consult the best betting odds, register on the online games site JOA.FR via the tablets made available to them or directly from their mobile (free wifi) and benefit from the advice of experts JOA.FR to place their bets. Guests can also play roulette at the bar via two terminals embedded in the bartop. For any registration on JOA.FR, the JOA Club offers up to €250 to play online and in casino. The first bet is refunded and once €50 deposited and bet on JOA.FR, JOA offers the customer a meal for two people and €50 of chips to play in casino.
Claude Giraud, Mayor of Montrond-les-Bains, welcomed the opening of the Sports Bar: "Since the inauguration of the JOA Casino in 2012, our city has a real leisure center, bowling, arcade games, a quality restaurant, an event space . This new innovation enhances the attractiveness of the city. It will enable us to perpetuate the operation of the casino and strengthen the remarkable partnership with the JOA Group."
Located in the heart of the spa resort, the Casino de Montrond-les-Bains is a true leisure complex of 4,400 m² with 225 slot machines with the possibility of playing outdoors in a tree-lined patio, 41 electronic terminals as well as live tables of blackjack, roulette and poker, alongside bowling, arcade games, a brewery, restaurant, a dancefloor and seminar rooms.