By
Phil
- 1 December 2014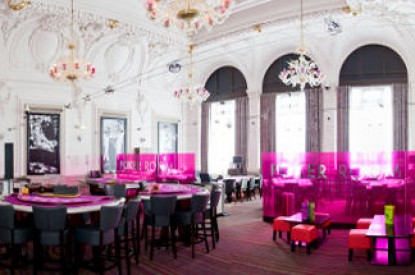 French operator Joa has now opened the gaming extension at its Casino D'Uriage in Saint-Martin d'Uriage, in the Rhone-Alps.
The design includes the use of opaque lacquered glass coloured in oranges, pinks and reds to create a contemporary casino space.
Laurent Lassiaz, the Chairman of the Management Board of the Lyon Group JOA, opened the new extension along with Casino Director Arnaud Loret. At a cost of €5m, the 1,000m² has provided a whole new gaming floor, space for shows and business conferences as well as a new reception area and a new entrance opposite the Grand Hotel, under a huge glass roof.
The casino restaurant can now welcome customers through its own entrance without the need for proof of identification.
Mr. Lassiaz said: "The aim of JOA is to become the number two or even number one operator on the French casino. Our aim is primarily to change the look of the casino world by making our facilities genuine leisure destinations. With these developments, we expect a 10 per cent increase in our traffic."