By
Phil
- 11 June 2017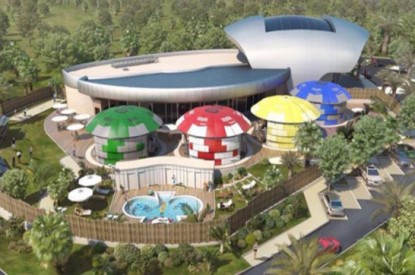 The Partouche group opened its Pleinair casino in La Ciotat in the French region of Bouches du Rhone of June 8, marking the first open air casino in France and in the world.
The new casino concept is located on the outskirts of the town, replacing the old casino, which was located on the seafront and which had become too small. By moving the license, Patrick Partouche, Chairman of the Supervisory Board of the Group, has devised an innovative and innovative structure in Europe, with all games, slot machines and table games placed outside.
They are sheltered from bad weather by large umbrellas or via a roof for poker tables and black jack. This design also makes it the first all-smoking casino in France. The investment, including land, is €15m.
La Ciotat has the lowest rainfall in France. In winter, the marquees will be heated by air coming from the ground and which will serve in the summer as air conditioning.
Patrick Partouche said: "We had the crazy dream of bringing together the best of our games in one place that would be extraordinary and in which we could spend days without seeing the time pass. Who thought they could play roulette in the open air, with the sea nearby? It's now possible."
The main building, designed by the architect Marc Farcy, has the shape of an overturned boat hull. It houses the administrative services of the casino, the restaurant, slot machines and table games, and a space devoted to virtual gaming, an activity that the Partouche Group has been developing for several years to offer for the moment free of charge as a pilot scheme to introduce the game. Gambling occupies most of the 1,300 m2 of the garden terrace, with under the four marquees houses 130 slot machines, up from 75 in the previous casino, alongside electronic roulette terminals Also sheltered along the main building, are two Texas hold'em poker tables and two blackjack tables. A third blackjack table in good weather will allow gamers wanting to refresh to play sitting in the Black Jack-uzzi, a large jacuzzi in the shape of a clover located beneath the parasols of the slot machines. All around the Black Jack-uzzi, deckchairs allow gusts to enjoy the weather. There are also vast gardens, a swimming pool and a number of sporting activities on offer, including boules. A fast food truck serves as an American diner. The casino will also be offering shows and concerts outdoors, with a dedicated stage on the lawn.
In 2016 the previous La Ciotat casino was ranked in 98th place out of the 200 French gambling establishments, with gross gaming revenue of €7,408,613, up 9.07 per cent over the previous year.
The "Pleinair" casino should boost this GGR, thanks to the increase of the machines and table games, its improved accessibility and of course its uniqueness. The Partouche group believes it could earn €12m a full year.