By
Phil
- 6 August 2022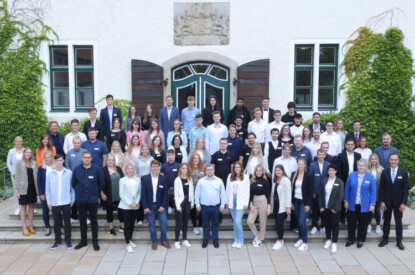 Gauselmann Group has taken on 58 new apprentices and dual students who started at the company on August 1 with an official welcome event at Schloss Benkhausen.
The Gauselmann Group traditionally attaches great importance to the promotion of young talent and employs a total of around 200 apprentices and dual students in 19 professions.
Armin Gauselmann, Deputy CEO of the Gauselmann Group said: "Especially in times of enormous challenges, it is very important to support young people in their entry into professional life in the best possible way. Because today's apprentices are our specialists and managers of tomorrow, we do everything we can to ensure that young people feel comfortable with us, learn a lot and get involved."
The Gauselmann Group always provides demand-oriented training – both in the commercial as well as in the industrial-technical area.
"We have a high takeover rate and offer young people numerous opportunities to develop professionally and personally," explained Tassia Giannopoulos, Head of Human Resources at the Gauselmann Group. Currently, the takeover rate at the main locations in Espelkamp and Lübbecke is around 80 percent. At the Gauselmann Group, the trainees experience the security of a family business deeply rooted in the region on the one hand and the opportunities of an internationally successful group of companies on the other. This attractiveness is also reflected in the number of applicants: more than 1150 applications were received for the training places.
Training manager Konrad Ostermeier also welcomed the new game makers to Schloss Benkhausen and encouraged those present: "You can be proud of yourself because you have managed to assert yourself among so many applicants."
The event was preceded by a one-year recruiting process with a multi-stage selection process. The applicants had successfully completed both an online test and an assessment centre before being invited to the final interview.
As part of a three-day introductory program, the trainees will now be gradually introduced to the Gauselmann Group. In addition to the welcome event at the castle, a visit to the vending machine museum and a visit to the production plant in Lübbecke are also on the agenda. So that the team idea is not neglected, the young professionals can already make their first contacts at the evening barbecue.