By
Phil
- 27 February 2018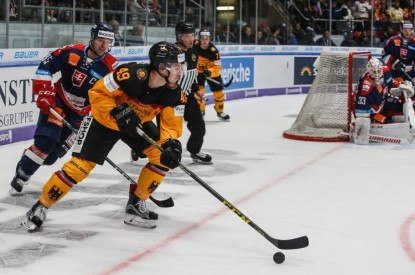 The German Ice Hockey Federation eV (DEB) is proud to announce its partnership with digital sports betting company LV BET.
LV BET and the DEB have agreed on a mutually beneficial media cooperation. During the one-year agreement, LV BET will be bestowed with the honour of being "DEB Official Partner" as well as "Official Partner of the German National Ice Hockey team." Conversely, the LV BET brand will gain exposure through televised sporting events, as well as on billboards, video displays, and promotional areas within all DEB arenas. Furthermore, LV BET will be granted a number of match tickets and an official presence on the sponsor wall.
Just like the DEB, LV BET is synonymous with the thrill, excitement and emotions of live sports. As a site that covers all major sporting events around the globe, LV BET has become a trustworthy betting option for sports fans. That is why LV BET is a participant in the TÜV-certified code procedure of the German Association for Telecommunications and Media e.V. and guarantees the highest level of control and security.
Robert SchÜtt, Head of Marketing DEB: "Through this partnership with LV BET, we acquire a first-class, well-known ally in the sports betting market. LV BET's commitment to us is testament to the steady rise in popularity of the national ice hockey team in recent years. The DEB provides advertisers from all industries with excellent customised packages to make use of our legacy and history as one of the leading nations in ice hockey. We couldn't be happier with this latest development."
Marek M. Czekalla, Business Development Manager DACH at LV BET: "LV BET is extremely proud to be an official partner of the DEB. As a leading sports betting site, LV BET aims to be a global brand that represents excellence in gaming and sports. That's why this agreement with the German Ice Hockey Federation is yet another step forward for us. LV BET prides itself on providing a quality sports betting product that players can enjoy safely. As such, we take our responsibilities seriously as German Sportsbook taxpayers and being members of the German Association for Telecommunications and Media e.V. We look forward to continuing to build our brand within the regulated German market."