By
William
- 19 July 2023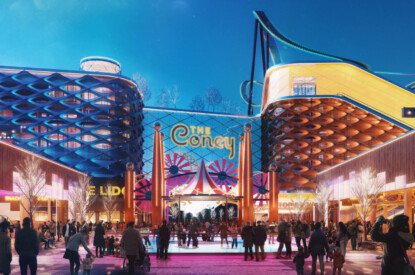 A casino in New York City could generate as much as $2bn in revenue annually and $600m in operating profit according to the commercial real estate services firm, CBRE.
New York's existing racinos are considered frontrunners in the process. Granting licences to the two would only necessitate raising their existing gambling options, putting Genting Group's Resorts World New York City, Queens, and MGM Resorts International's Empire City Casino, Yonkers, in prime position.
With two of the three licences likely sewn up, it's unsurprising little has been heard from either. Why say something when you can say nothing? MGM Resorts did provide a few details – if one can call them details – on a potential overhaul of its 97-acre Empire City Casino if the company earns the right to develop a full-scale gambling operation.
On an investors call, MGM Resorts' CEO and President, William Hornbuckle, said: "We had hoped to invest up to a couple of billion in the first round to put us into the table games business, to expand some of the amenities and put in a much-needed parking garage there, to put an entertainment facility there and potentially some other things."
Expensive parking.
According to reports with the state's Commission on Ethics and Lobbying in Government. Genting Group has spent at least $2.7m on firms to lobby for the expansion of the Resorts World facility it operates at the Aqueduct Race Track in Queens since last January — the most any bidder has shelled out.
Bally's looked set to be a prominent player in the race after reaching a deal with the Trump Organization last year to take over its public golf course next to the Whitestone Bridge. However, according to the New York Post the operator can't get the Parks Department to move fast enough to approve the licence transfer. The proposal to build a casino resort next to the Trump Organization's public golf course at Ferry Point would create over 15,000 construction jobs and more than 3,500 permanent jobs.
The Trump Organisation has the licence for the next 12 years and has agreed to transfer 17 acres at the site – and the licence – to Bally's. However, Bally's needs the rights to operate the site for 70 years to get a state casino license. The Parks Department has never previously given that length of long-term licence, nor anything near to it. Time will tell, but it's looking doubtful. Pledges have been made to remove the 'Trump' part of the public sign, but that association is the least of Bally's' concerns for the time being.
It was widely reported earlier this year that Steven Cohen, a hedge fund manager who owns the New York Mets, had been in talks with multiple operators including Hard Rock to develop a casino next to the team's stadium in Willets Point in Queens. The operator hasn't shown its hand publicly but a spokesperson released a statement back in March refuting Russian connections to the business. Hard Rock's previous business operations in Moscow and St. Petersburg – now closed – could prove a sticking point in any potential bid.
That's not to say Hard Rock is totally out of the running. Reports across multiple US news outlets indicate Hard Rock has been politically active in the State with the gaming firm's executives contributing $50,000 to New York Governor Kathy Hochul's re-election campaign. They later held a fundraiser for her, contributing at least $100,000 campaign finance records and reports retrieved by The New York Post show. Hard Rock also spent $110,000 lobbying state lawmakers on casino gaming prior to the order signing and at least $120,000 afterward, according to state lobbying records.
Many backdoor dealings and plenty of money changing hands. Lobbying firms behind New York City's casino proposals continue to make millions on behalf of operators and their real estate partners, according to a POLITICO analysis of public records, with some even working for competing clients. The contestants are shelling out unreported sums for consulting, political strategy and public relations — contracts that are not required to be made public unlike lobbying deals. There are justified fears amongst government groups that the mix of big money, fierce competition and political sign-off has created a breeding ground for corruption.
Like its Hudson River, New York's casino bidding process is becoming increasingly murky. It's fair to say it won't simply come down to the best bids win. However, there have been some fascinating proposals put together so here are the ones that've gone on record:
TIMES SQUARE
Caesars Entertainment has presented plans to redevelop 1515 Broadway as a premiere entertainment and gaming destination in the heart of Times Square, one of the most visited destinations in the world.
Caesars Palace Times Square would generate seven million new visits to Times Square, bring New Yorkers and tourists back and drive billions in economic benefit to Broadway and local businesses.
Roc Nation, the full-service entertainment agency founded by JAY-Z, will be the official entertainment partner of SL Green and Caesars Entertainment in their bid for a new, state-of-the-art gaming facility at 1515 Broadway in Times Square.
Caesars Palace Times Square will be designed to include a Broadway Theatre for The Lion King. The development has promised to deliver a best-in-class experience that will be authentic and complementary to the Times Square entertainment district. The potential casino is supported by a broad coalition of Times Square stakeholders representing construction labour, Broadway labour, restaurants, hotels, small businesses, theatre and local residents.
In addition to major economic benefits to all Times Square stakeholders, the bid proposes significant security and traffic improvements as part of their proposal, which would boost Mayor Adams and the NYPD's efforts in Times Square. These efforts will make visitors feel safer, improve mass transit, encourage pedestrian travel, and mitigate vehicle congestion in the area, pursuant to a proposed traffic plan to be included as part of the project.
Caesars Palace Times Square will provide billions in tax revenue to New York City and State whilst accelerating New York's economic recovery through strategic partnerships with area businesses utilising its loyalty programme Caesars Rewards, home to more than 65 million members.
Caesars and SL Green have begun signing up new merchants in Times Square and greater New York to join the Coalition for A Better Times Square. Participating merchants' involvement in Caesars Rewards would be effective upon SL Green and Caesars' procurement of a New York State gaming license.
Caesars Rewards members will be able to use credits at Broadway shows, local hotels, restaurants, retail stores, comedy clubs, entertainment venues, and more, driving more tourists to area businesses and creating thousands of direct and indirect jobs in and around Times Square.
Caesars Palace Times Square will be 100 per cent privately funded with Caesars licensing its brand and managing the operations under a long-term management contract.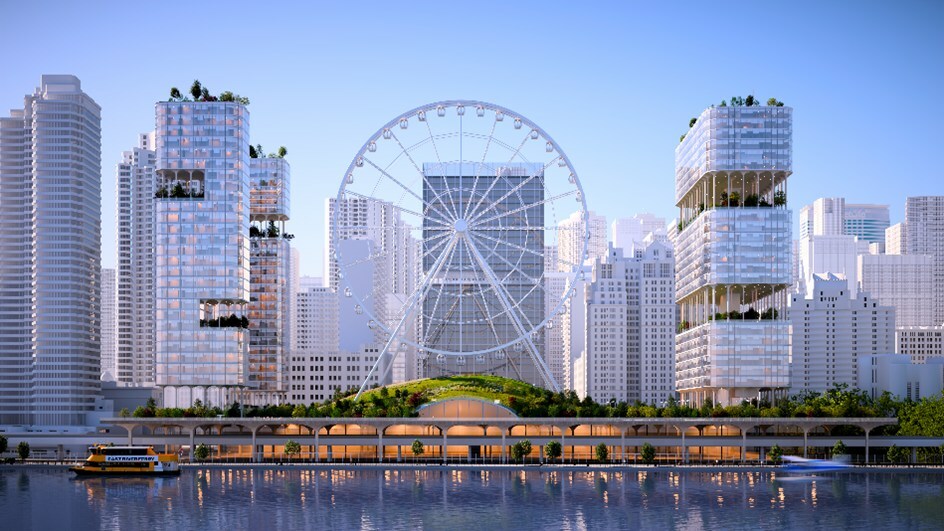 FREEDOM PLAZA
Mohegan Gaming is the casino partner for the Freedom Plaza development which would bring a Ferris wheel to the New York skyline.
The proposed Freedom Plaza would introduce the world's first museum dedicated to the celebration of freedom and democracy. Freedom Plaza would also serve the community at large with the availability of a substantial green area, a state-of-the-art performance venue, iconic Ferris Wheel, a 1,000+ room first-class hotel, and two residential towers which will work towards satisfying the city's critical shortage of housing.
The immediate surrounding area is largely undeveloped in terms of real estate, providing an opportunity for access without undue disruption. Connected to the Franklin D. Roosevelt East River Drive and numerous bus stops, Freedom Plaza is a short walk from the 34th Street ferry and Grand Central Station. The development team will also explore providing additional dedicated ferry service.
Freedom Plaza will generate thousands of well-paying jobs throughout the construction process and, upon opening, inject the local economy with millions of dollars in new tax revenue. Area businesses will also benefit from the halo effect of the city's newest destination.
THE AVENIR
Greenwood Gaming, owner of Parx Casino, has lodged a bid to develop upon vacant land on Manhattan's far West Side.
In partnership with Silverstein Properties, Parx have announced plans to develop the Avenir, a hotel, casino, entertainment, and residential complex on vacant land on Manhattan's far West Side. The 1.8 million square foot project will be located on 92,000 square feet of undeveloped land at 41st Street and 11th Avenue, just north of the Jacob K. Javits Convention Center, New York City's premiere convention destination, which hosts more than 150 major events and 2.5 million visitors each year.
The Avenir comprises two 46-story towers connected by a public sky bridge and include 1,000 luxury hotel rooms; an eight-story, 600,000 square foot gaming, entertainment, and restaurant complex at its base; more than 100 units of 100 percent, permanently affordable housing; and a 1,000-seat performance hall on its top floor. The project site is fully owned and controlled by Silverstein, is shovel ready upon approval, and free of complex logistical infrastructure hurdles, such as a heavily congested immediate area, the need for residential or commercial displacement, or the construction of a large support deck.
The Avenir will be designed jointly by Steelman Partners and CetraRuddy. The 46-story, distinctive two-tower complex will include a public sky bridge that connects the towers on the 45th floor. The 45th floor, located 630 feet above the street, will also feature the project's signature design feature: a 1,000-seat performance hall, which will be available for use by local community and school groups along with world-class concerts in a stunning, intimate setting. It has been stressed that the hall will be designed to complement – not compete with – Broadway theatres.
The Avenir will be union built and union staffed. The project is expected to create 4,000 union construction jobs, and more than 5,500 permanent union jobs upon completion. Affordable housing is a cornerstone of the Avenir, and Silverstein Properties plans to build more than 100 apartments that are 100 per cent and permanently affordable on site at a mix of unit types and sizes, which will be available to New Yorkers through the City's housing lottery system.
LONG ISLAND
Las Vegas Sands has confirmed its intention to pursue the development of a multi-billion-dollar flagship hospitality, entertainment and casino project on Long Island, New York.
New York's Nassau County has signed a preliminary 99-year lease agreement with Las Vegas Sands for use of its 80-acre Nassau Veterans Memorial Coliseum site. The integrated resort components of a Long Island development would include outdoor community spaces, four and five-star hotel rooms and a world-class live performance venue honouring the long legacy of live music at the Nassau Coliseum.
Nassau Coliseum, which was home to the NHL's New York Islanders until 2021, is a 16,000-seat arena that hosts graduations, minor league professional basketball games and lacrosse matches. The resort property would also feature celebrity chef restaurants, experiential events and venues and flexible meeting and convention space, including ballrooms. Other amenities would include high-quality casino gaming, which is planned to represent less than ten percent of the project's total square footage, a luxurious day spa, swimming pool and health club, and a variety of other entertainment programming.
Building upon years of community outreach at the site by RXR Realty, Sands will work with local Long Island communities to co-create a development plan and bid that ensures that the new integrated entertainment and hospitality resort maximises economic opportunity, helps to build stronger communities, and protects the quality of life for all Long Islanders. Sands will re-activate the various working groups previously established by RXR to identify the goals and opportunities for local residents.
Through the company's environmental sustainability programme, Sands ECO360, the Long Island development would also utilise sustainable building and operating practices. The company will seek guidance from Long Island's environmental leaders on its ambition to achieve LEED certification and its goal of being the greenest building on Long Island.
Sands is also committed to creating a development that is uniquely Long Island through investments in existing community and cultural projects and organisations and partnerships with local celebrities and sports teams. The project would also honour the site's legacy as a veteran memorial and pay tribute to Long Island's community of military service members – past and present, and provide thousands of quality union jobs in both construction and operations.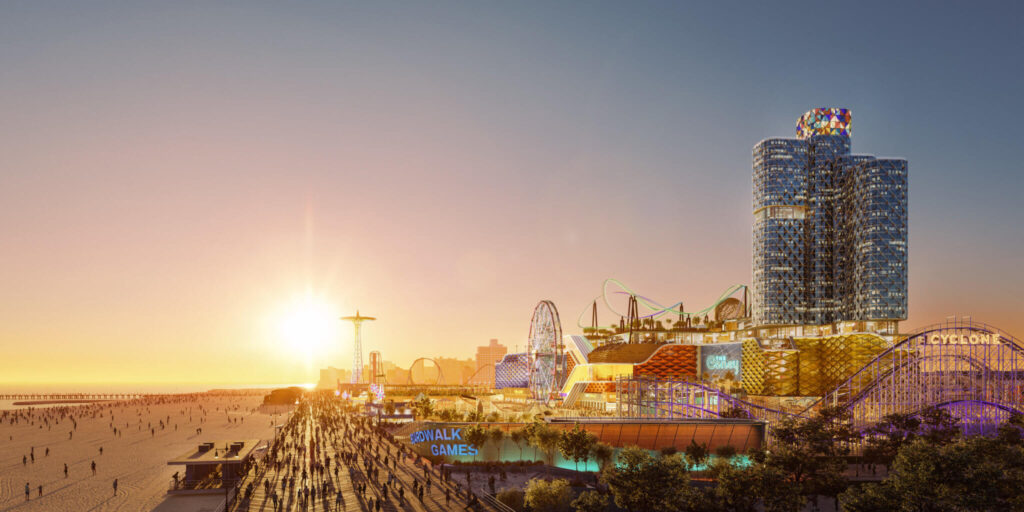 THE CONEY
Little is known about the specifics of a bid lodged by Saratoga Casino Holdings and The Chickasaw Nation for a casino, hotel, and entertainment proposal at Coney Island.
What we know is that the bid has pledged an investment of more than $3bn completely made up of private – not taxpayer – funds, creating 2,500 construction jobs and thousands of permanent ones. The bid's strength lies in Saratoga Casino Holdings and The Chickasaw Nation providing Coney Island with expertise in gaming, coupled with a deep understanding of the importance of meeting local community needs. Together, they will operate gaming in Coney Island.
The bid draws on the expertise and institutional knowledge of respected developers and operators while also fulfilling a generations-long promise to Coney Island by providing the region with a permanent, thriving local economic engine. If awarded a licence, Coney Island's economy will no longer be so singularly dependent on summertime amusement park visitors.
The partners have expressed their commitment to MWBE hiring in addition to working with local institutions to create a job training programme with a focus on hospitality and gaming that then hires directly from residents of Brooklyn and Queens.
HUDSON YARDS
Wynn Resorts has proposed a casino on the far west side of Manhattan housed within a 1,500-room resort boasting 20 restaurants, a nightclub and theatre.
Downstate on the Western Yards at Hudson Yards, Wynn Resorts has submitted plans for a resort, entertainment and gaming destination along the Hudson River would deliver thousands of permanent and construction jobs and billions in direct and indirect tax revenue to the state and city.
The Western Yards is located directly next to Javits Center—which has recently completed a $1.5bn expansion and is one of the busiest convention centres in the United States hosting the world's leading conventions, trade shows and special events. Together with the Javits Center, a world-class resort on the Western Yards would create the country's preeminent convention and entertainment district.
Located along the High Line's northernmost portion, Hudson Yards is walking distance to all of the region's major public transportation, including the 7-Train line, Penn Station (accessible to the LIRR, A/C/E, 1/2/3 Train lines), Moynihan Train Hall and the Hudson River Ferry.
Hudson Yards is the centre of New York City's rapidly evolving West Side and home to diverse shops and culinary experiences, offices for leaders in industry, public art, acres of open gardens and groves and dynamic hub to New Yorkers, tourists and visitors to the Javits Center.