By
Phil
- 26 January 2015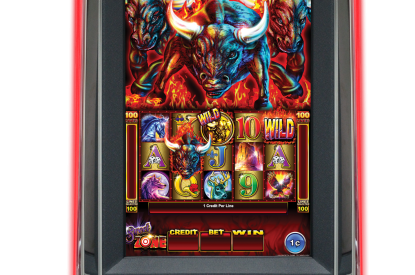 Ainsworth Game Technology brings A Winning Play to the 2015 ICE show with the all new A560 SL.
The newest cabinet from Ainsworth, the A560SL is a one screen wonder specially designed and custom built for a unique, highly entertaining game range. Featuring a striking 32" High Definition display, 19" LCD Topper option for Jackpot promotion, unique attract lighting package stylised to the game, premium surround sound technology, sky high stacks and breathtaking animations, the new A560SL is sure to be a main attraction on your gaming floor.
The new A560SL provides a robust entertainment packed range of game brands. Titles that will be on display include: Rumble Rumble, Big Bang Bucks, Flying Horse, King Cat, Fire Wizard, Ice Wizard, Power Fruit 7's and Mega Fruit 7's with many additional titles due for release in 2015.
Ainsworth's Managing Director, Robert Dijkstra, said: "This is a very exciting year for Ainsworth. We have pushed the boundaries of technology with our latest cabinet to ensure that players receive an enhanced gaming experience through improved sound, graphics and a wide range of new branded games. We are very proud to share these new products that will be on display in our booth this year with our casino operator partners.
The super-sized A560 Wide Boy brings features alive with the 32" landscape mode LCD top box and exciting game driven LED lighting! Titles being highlighted at ICE include Hummin King Spin, Reel of Wheels Horsepower and Cash Challenge.
Ainsworth will display a new line up of themes for their core Game Plus library: Quad Shot, Double Hit, Play 40/50/100 Lines, Wheel Winner, Multi Win and High Denom, and don't miss out viewing Ainsworth's new games developed exclusively for the UK B1 category (Casino) Fortune Ox and Royal Diamonds.
Ainsworth's Group General Manager Strategy and Development, Scott Clarebrough, added: "This year's ICE lineup is a combination of, innovative game mechanics and hardware and exceptionally entertaining math models that will definitely provide the best player experiences and create tremendous excitement on any gaming floor." He continued, "We will be showcasing a diverse product portfolio to date so show attendees will walk away with a vision of the future! The new products on display will again demonstrate the creative and innovative edge Ainsworth brings to its product design and development. Ainsworth has been building for the future and now we're ready to further raise the performance bar with more leading edge brands and exceptional game titles. We are committed to delivering players with quality and unique entertainment experiences."
Related Stories