By
Phil
- 29 January 2016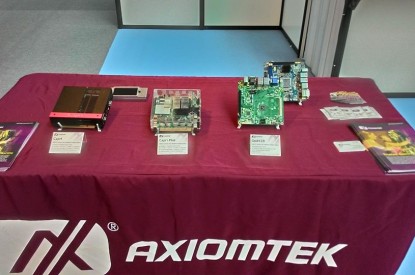 Months after the successful launch of the GMB130, an AMD Embedded R-Series SOC based Mini-ITX board, Axiomtek Gaming is to release the AGP100-130 which is based on the same SOC architecture inside a logic box capable of running up to four of AMD's latest high-performance x86 64-bit "Excavator" CPU cores along with AMD Radeon graphics.
This new platform drives two DisplayPort 1.2 with up to 4K resolutions while having one DVI-D output for 1080p game content. Moreover, the AGP100-130 is fully-featured with eight USB ports (including one internal USB port for O/S and game), up to seven COM ports, power by DC +12V, Audio Amplifier, and 32 Digital Input and Outputs.
In addition, AGP100-130 comes with Axiomtek Gaming's proprietary security functions verified by GLI called "TrustedBoot" and "TrustedData". Both are technology modules verified to match technical standards required by worldwide jurisdictions to enhance security features, speed up game development, and adapt to EGM's for time to market requirements leading to higher profitability. The modules are found across other Axiomtek Gaming's gaming products adapted for Windows and Linux environments. It is an ideal product for VLT and casino EGM's.