By
Phil
- 27 January 2015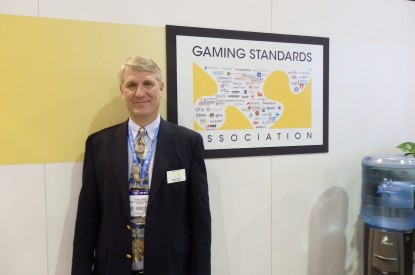 GSA President Peter DeRaedt has confirmed that Gaming Standards Association (GSA) executives and engineers will be available on its stand in London during the 2015 ICE Totally Gaming expo and conference in London, February 3-5, to answer questions about GSA's new generation of standards and protocols that will be released over the next six months.
GSA Protocol Director Ethan Tower said: "After two years of hard work by scores of volunteer engineers representing major gaming companies, suppliers and manufacturers from all around the globe, we are now on the verge of releasing this newest suite of standards that will help operators and manufacturers adopt and implement the latest technologies so they can introduce exciting new features to players and regulators in every sector of the industry."
In addition to its existing suite of standards, Mr. DeRaedt also announced that the online gaming committee has commenced work on the organization's new Central Monitoring Standard and that gaming regulators interested in obtaining further information may contact him directly. The new initiative related to Central Monitoring Systems is the result of a very productive workshop with European regulators in September 2014 and GSA intends to continue these efforts in 2015. Established in 1998, GSA's members represent a wide cross section of the global gaming industry.