By
Phil
- 27 January 2015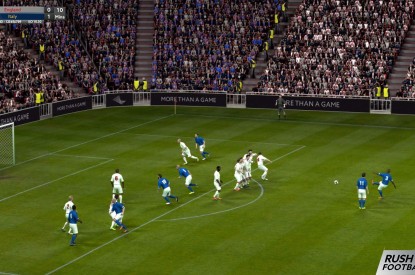 The newly-named Inspired will be unveiling the hotly anticipated Rush Football 2 boasts lifelike Ultra HD graphics and over 30 bet markets – resulting in a more exciting and premium player experience.
Joining an extensive portfolio of 11 sports and four numbers games, Rush Football 2 is created by Inspired's award-winning team of designers and betting experts, combined with new insight from UK and International consumer research. Inspired's new Virtual Football comes in a number of formats including single game and multi-game, allowing players to place accumulator and multiples bets across several virtual matches playing at the same time. A number of spin-off games are already in development including league/tournament formats and 'quick-spin' formats for mobile channels.
Gerhard Burda, Acting Chief Product Officer at Inspired Gaming Group, said: "Our Virtuals continue to drive incremental growth in venues, online and on mobile – and there is much demand for our new Rush Football 2 from both operators and players alike. We created Virtual Sports over a decade ago and our Virtual Football is universally the most popular game in its category.
"The models and animations in the new release have been re-worked from scratch using brand new film-quality motion capture techniques. We are excited to be pushing the boundaries of innovation even further with this new addition to our portfolio and we look forward to presenting the product to new and existing customers at ICE 2015."
ICE delegates can also look forward to a host of new mobile games from Inspired, including social game We R Football and Inspired's first free-play slots app – a free version of Inspired's Goddess of the Amazon game. Inspired's recent acquisition of the social games We R Football and I am Playr is demonstrative of Inspired's commitment to mobile games and to creating new player segments and game categories specifically for mobile.
Inspired will also launch two new VLT cabinets, Optimus and Inceptor – both of which are available on Inspired's GSA compliant terminal platform, Core Connect. Optimus is a sleek, modern and customisable VLT cabinet, optimised for multiple market tiers. Inceptor is a cost-effective and versatile cabinet, designed for distributed VLT and lottery points of sale in emerging markets.