By
Phil
- 4 June 2018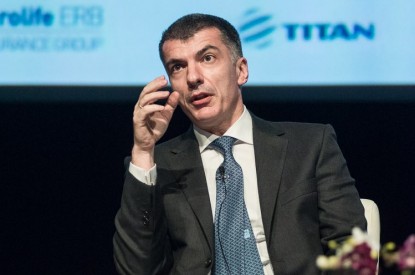 Greek operator Intralot grew its revenue by 12.7 per cent and its EBIDTA by 15.6 per cent year over year in the first quarter of 2018.
The group said it saw 'tremendous business opportunities' following the US Supreme Court has ruled that PASPA (the Professional and Amateur Sports Protection Act), a 1992 federal law which prohibited states from legalizing sports betting, is unconstitutional.
Intralot CEO Antonios Kerastaris said: "The 2018 Q1 results show stronger sales and continuing growth in developed markets, reflecting increasingly successful market development efforts along with an upgrade of our offering with next generation products and services for Lotteries digital transformation. Emphasis remains on growth in markets such as the United States where the recent lift of the federal ban on sports betting creates tremendous business opportunities from the rise of a potential USD 20bn market in annual GGR terms, on top of great prospects in new flagship projects such as the Illinois State Lottery."
During the three-month period, Intalot systems handled €6.3bn of worldwide wagers (from continuing operations), a two per cent year-on-year decrease. Africa's wagers increased by 20.3 per cent, East Europe's by 8.5 per cent, and South America's by 7.1 per cent; while Asia's decreased by 6.9% per cent, West Europe's by 2.2 per cent, and North America's by one per cent.
Sports Betting was the largest contributor to Intralot's top line, comprising 58.9 per cent of its revenues (posting double digit revenue growth, +11.9 per cent year over year), followed by Lottery Games contributing 29.7 per cent to group turnover. Technology contracts accounted for 6.2 per cent and VLTs represented 2.8 per cent of Group turnover while Racing constituted the 2.4 per cent of total revenues of 1Q18.
Reported consolidated revenues for the three-month period are up by €11.7m year over year. The main factors that drove top line performance per Business Activity are a €7.7m, 4.1 per cent, improvement from Intralot's Licensed Operations (B2C) activity line with the increase attributed mainly to higher revenues in Poland with additional revenues of €7.9m due to the growth of the interactive Sport Betting channel (following market regulation) and the introduction of Virtual Games in 2Q17.
There was also growth in Bulgaria, up €6.1m, mainly due to the growth in Virtual Sports fueled in part by the increased payout and Azerbaijan (up €1.7m), driven by the Sports Betting revenue growth. This was partly offset by the impact of the suspended license in Cyprus in 4Q 2017, which fell €4.8m.
Argentinean licensed operations posted a c.+34 per cent year over year increase, which was heavily affected though by the local currency fluctuations which is also the main driver for the worsening performance in Euro terms in the three-month period.
Turkey's improved €3.8m revenue increase attributed both to the growth of the Sport Betting Market year over year as well as due to the shift towards Online Sports Betting. The benefit of the Sports Betting market expansion and mix change has been partially offset by the devaluation of the local currency (c.19.0% devaluation against the Euro versus a year ago)
Morocco's (€+1.6m) Sports Betting sales uplift attributed to the enhanced product offering.
US operations recorded a worse performance, down €0.9m, in Euro terms. In local currency base our US operations recorded double digit growth compared to 1Q17 driven by the numerical segment stronger performance, which has been fully offset though by the adverse USD movement. The double digit growth has also been supported by the Idaho contract renewal on better terms.