By
Phil
- 11 April 2014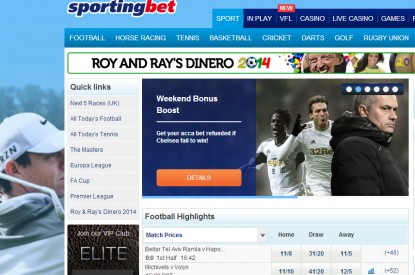 GVC Holdings has attributed its acquisition of Sportingbet for a record level of Clean EBITDA for 2013 at €38.3m which is ahead of recently upgraded market expectations.
The financial turnaround of Sportingbet was completed during the year with significant restructuring, and the acquired business returned to profitability, making a contribution to Clean EBITDA of €4.7m.
This financial turnaround has allowed GVC not only to pay a quarterly dividend of 11.5 €cents in line with what it had already paid earlier in 2014, but also to announce a special dividend of a further 4.5 €cents. This means that the total dividend declared for the year is 48.5 €cents, an increase of 120% on 2012 (22.0 €cents).
In Sportingbet, GVC has acquired and developed further a market leading sports platform, and it is this, together with a more "fit for purpose" corporate infrastructure which has allowed the Board to be ready for further acquisitions and investments. GVC is already benefiting from the successful integration of Sportingbet and this can be seen in the record levels of trading in Q1-2014, with revenues exceeding €50 million per quarter for the first time.
Chairman Lee Feldman said: "2013 saw a step-change in GVC, its size, its complexity, but more importantly its profitability, cash generation, and the dividends paid to shareholders following the acquisition of Sportingbet plc on 19 March 2013. The Group is now generating over €1.2bn a year in sports wagers, and total revenues in the first quarter of 2014 exceeded €50m, an average of more than €556k per day, compared to €394k a year earlier. At the date of this statement, GVC's market capitalisation is now over £230m, and between 2009 and 2013 the Group has paid to its shareholders £51.8m in dividends and is already ranked as one of the highest yielding dividend payers on AIM."
Kenneth Alexander, Chief Executive of GVC Holdings, added: "Executing the complex acquisition and turnaround of Sportingbet has been a milestone for GVC and has led to greater geographical diversification and a significant increase in profits and dividends. We are now ready for the next stage in our corporate development and further geographic expansion through organic growth and acquisitions. GVC aims to deliver this without diluting the dividend. The Board is confident of meeting current market expectations for the 2014 financial year as underpinned by our proposed dividend of 16 €cents total."
GVC significantly restructured Sportingbet and its balance sheet, which not only had a deficit in working capital of €50m at acquisition, but also, was substantially loss-making and cash-burning. In the nine and half months since acquisition, a financial turnaround has been achieved resulting in a Clean EBITDA for Sportingbet of €4.7m with €3.8m being generated in Q4-2013 alone.
The acquisition and the subsequent restructuring costs were largely financed through the issue of an additional 29 million shares to existing Sportingbet shareholders at a 'roll-over' price per share of £2.48; and from William Hill plc a contribution of £36.5m along with a long-term loan of £6.9m.
Looking to the future, Mr. Feldman explained: "In the next 12 months, the Group will seek to: accelerate its penetration in Brazil, the host nation of the FIFA World Cup; drive further synergies from the Sportingbet acquisition; improve the product offering, particularly mobile; continue growing the many markets in which GVC operates; and devote more executive time to non-dilutive investment and acquisition opportunities."
"Current trading during the first quarter of 2014 is at record levels, with sports wagers averaging €3.8m per day, a sports margin of 10.1 per cent and an average Net Gaming Revenue increasing by 41 per cent to €556k per day compared to €394k in 2013, and up by 6.3 per cent from €523k in the first quarter of 2014," he added. "The Board is therefore confident of meeting current market expectations for the 2014 financial year as underpinned by our proposed 16 €cents dividend."