By
Phil
- 12 August 2016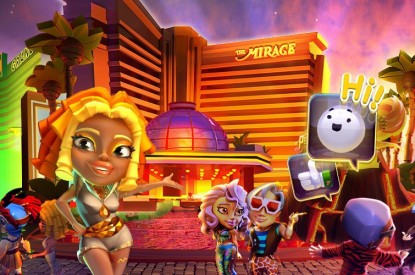 PlayStudios, a developer of award-winning, free-to-play casino games that offer real-world rewards, today announced that it has acquired Scene53, an Israel-based game studio specialising in real-time, multi-player mobile games.
The two companies jointly developed the newest PlayStudios mobile app, POP! Slots. The game allows players to play in groups, share jackpots, and interact with friends as they explore virtual versions of iconic Las Vegas resorts. The initial release features MGM Grand, the Mirage, and Excalibur, with additional resorts soon to be added. POP! Slots is now available world-wide for Apple and Android mobile devices and is already earning 5-star reviews as it climbs to the top of the app store charts.
After working with Scene53 to create and launch POP! Slots, PlayStudios moved to acquire the company and establish it as an independently operated studio, PlayStudios Israel (PSI). The Tel Aviv team will now focus on growing the POP! Slots product while pursuing new opportunities in the casual, free-to-play casino category.
Andrew Pascal, CEO of PlayStudios, said: "Scene53 built an incredible platform for running multi-player, real-time games and hosting virtual events in a 3D setting. They used this technology to create some very promising online experiences. We quickly saw their company's potential and believed that together we could build something really great."
Yonatan Maor, Founder and CEO of Scene53, said: "We are big fans of PlayStudios. Their games are beautiful and fun to play. They have extensive knowledge of the casino industry and they possess a very unique set of assets – their real world rewards platform and their exclusive rights to the biggest and best resorts in Las Vegas, such as Bellagio, Aria, and Mandalay Bay."
Mr. Pascal continued: "We are delighted to welcome Yonatan, Yossi, Ofer, Oded and the rest of the Scene53 team to the PlayStudios family. Their entrepreneurial spirit is evident in all that they do, and their passion is inspiring."
POP! Slots is the newest release from PlayStudios, and takes its place alongside the company's other top-ranked casual casino games, myVEGAS Slots, my Konami Slots, and Lucky Life. As with the company's other titles, it gives players real rewards from an exclusive collection of travel, leisure, and entertainment partners such as MGM Grand, Bellagio, ARIA, Royal Caribbean International, Genting UK, Resorts World, Wolfgang Puck, Cirque du Soleil, the Hippodrome, and many more. These rewards include complimentary hotels stays, meals, shows, free slot play, and VIP nightclub access, with new offers added regularly. PlayStudios currently operates in the US, Hong Kong, and Israel. The company's apps are currently available on iOS, Android, and Kindle mobile devices. myVEGAS Slots can also be played on Facebook.