By
Phil
- 21 October 2013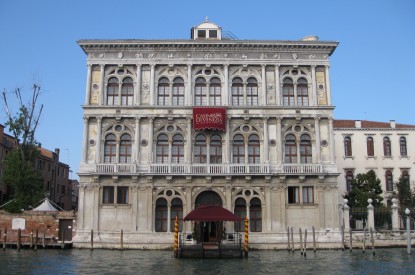 The Italian media has named four stakeholders as being interested in buying the operational rights for the city's two casinos; Ca' Vendramin Calergi and Ca'Noghera.
Paradise Entertainment, Gtech-Lottomatica, Queenco and Las Vegas Sands have all reportedly confirmed their interest in securing the 30-year concession to take the casino private.
Paradise Entertainment is a Chinese company that owns Casino Kam Pek Paradise in Macau as well as casino multi-player manufacturer LT Game.  Israel-based Queenco is, according to some, the favourite contender in the mayor's eyes. It has shares in Club Hotel Casino Loutraki and Casino Rodos in Greece as well venues in Serbia and Prague. Gtech-Lottomatica is well known in the Italian market as one of the leading gaming companies across all spectrums of the business. Las Vegas Sands, owned by Sheldon Adelson, meanwhile is perhaps the surprise inclusion by the local media. Mr. Adelson has already built two casinos based on Venice in Las Vegas and Macau but has been focussing his European attention on his EuroVegas project in Spain.
Last month, the City Council of Venice has agreed to sell its casinos with the goal of achieving new management through a public tender by the end of the year. The merger will result in city coffers being boosted between now and 2043 by nearly €900m.
The privatisation provides a one-time initial €140m, an annual fee, starting in the third year, equal to 10 per cent of the proceeds with a minimum of €11m, an additional fee, over €140m of five per cent. The Memorandum of Understanding between the mayor and unions has also strengthened the guarantees for employees who for example can be dismissed for economic reasons only from the seventh year.
Mayor Giorgio Orsoni said: "We must look to the future responsibly for this company and its employees, and save it from a certain disaster. This is why we need to change the perspective of ownership and entrust the management to an international operator which, should be strong, capable and competent. You are not implementing any sell-off but on the contrary this administration has set up an operation that allows you to look with confidence to the development of this company in the interest of all. I believe that the award of the Venice Casino to a private operator, with clear rules whilst keeping control in the hands of the municipal administration, is a fundamental step towards the revival of the casino. It is the intention of this Administration to face up to this very difficult time of crisis with determination."
The initial figure that City Council expects to receive 'spread' over two or three years is €350m. In the first six months of 2013, the Venetian casino grossed just over €55m whilst last year it collected 114.2m.