By
Phil
- 8 March 2017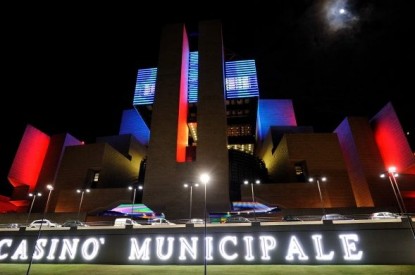 Italy's four casino groups are experiencing mixed fortunes with February bringing positive results for Casino di Campione and Sanremo Casino but double digit declines in Venice and Saint Vincent.
Casino di Campione reported that its land-based GGR was up 11.8 per cent year-on-year to €6.86m, despite footfall falling 6.4 per cent to 49,213 visits. It followed a positive January too. In total 2017 has brought revenues of €15m, showing a healthy increase of 6.24 per cent year on year.
Casino di Sanremo also reported a positive February with GGR of €4.05m, marking a five per cent increase. Casino di Venezia meanwhile reported that revenue at its two locations were down 10.8 per cent in February, to €6.7m, despite footfall being up 5.8 per cent in the month.
Saint Vincent Resort and Casino saw its GGR plummet again in February, this time by 17.17 per cent It generated GGR of €4.4m in February.
The online sector in Italy continued to grow though with online sports betting turnover hitting €432m for February, surpassing land-based betting which generated €394m. The combined betting total of €828m was 30 per cent higher than the same month last year and seven per cent higher than January.
Bet365 was the top earner, generating €143.3m, just under one-third of the total followed by Ladbrokes-Coral's Eurobet brand, which generated €41m, Sisal at €31.4m, Snai at €30.7m and William Hill at €25.5m.
Online casino revenues increased by 25 per cent in February to €41.1m with Lottomatica leading the way with a 10.7 market share followed by Sisal, PokerStars, Bwin and Snai.
The online poker market remains in free fall though with February's tournament fees dropping by 16.5 per cent from January while cash games were down 11 per cent.
Last year, the Italian gambling market generated spend of €19.17b, an increase of 11.4 per cent year-on-year with €10.5m of this coming from the VLT sector.