By
Phil
- 15 January 2016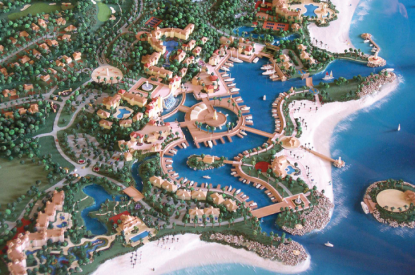 The race is on to open Jamaica's first casino resort with both officials behind Celebration Jamaica and Harmony Cove saying construction work will get underway this year.
The operators can only apply for a casino licence after the first 1,000 hotel rooms have been built.
Celebration Jamaica confirmed this week that construction work on the project will begin this year.
The integrated resort will include a 2,000 room hotel, casino, entertainment facilities and hotel rooms, the first of its kind in Jamaica. It will be built on 90 acres in Rose Hall in the greater Montego Bay area.
Its owners held the launch ceremony at the beginning of January.
Celebration Jamaica Founder Robert Trotta said the project would aim at "celebrating all things Jamaican and Jamaican music in particular."
Celebration Jamaica Hotel and Resort is positioned as a 365-day entertainment attraction for both tourists and locals.
Its first phase will cost $500m and will include 1,000 rooms along with a Caribbean World Music Entertainment Complex, a 1,200-seat theater, a banquet hall and a casino.
The casino will cover 100,000 sq. ft. with casino games and sports betting options. The completed project is expected to cost $1.8bn and will employ up to 12,000 people. No completion date has yet been announced for either of the projects.
Building work on Harmony Cove will start by the summer of 2016. Its first phase Phase One will be more expensive, costing cost $1bn, $30m more than previously anticipated. Phase One will include 1,000 hotel rooms, food and beverage options, and retail space. The resort will take up a 2,300-acre site in Trelawny with a casino, a spa, several marina-based facilities, convention facilities, golf courses and 5,000 hotel rooms.
Again, it is not know yet the first phase of the complex will be completed. Harmony Cove is a partnership between state-owned Harmonisation Limited, who has a 49 per cent share of the project, and Tavistock Group, a global investment company, who will own 51 per cent. Shareholders in Harmonisation include Development Bank of Jamaica and National Housing Trust.
Executive Director of Harmonisation, Dr Lorna Simmonds said: "All key stakeholders have been secured and we are working through the paperwork and are in various stages of completing the financing. A lot of the thing is proprietary and the announcements will come soon and from the highest quarter of government in coordination with Tavistock and through the prime minister and the minister of finance."
"We are on track to meet our Integrated Resort Development approval," she added. "We are on track to break ground this summer."