By
Phil
- 16 November 2020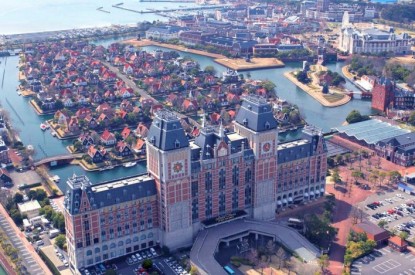 French casino operator Partouche and Japanese energy company Pixel Companyz will focus on Nagasaki as the location for their bid to develop an integrated resort in Japan.
The Japanese city on the island of Kyushu was also the focus for Partouche's previous Japanese partnership with Oshidori International, which was terminated in May this year. Oshidori International wants to develop an IR project at the Huis Ten Bosch theme park in the city of Sasebo.
The race to develop and IR in Nagasaki is now pitching four consortiums together with Oshidori International Holdings, Casinos Austria and a collaboration between Get Nice Holdings and Current Corp. taking on Partouche and Pixel.
Pixel Companyz CEO Hiroaki Yoshida said: "Nagasaki is the optimal site for an integrated resort in Japan. Sasebo city, where the development site is located, is a beautiful seaport city rich in history and international culture. The prefecture has seen support for integrated resort development from both the prefectural and municipal councils, and also the private sector in the business communities of the Kyushu region."
"We see Nagasaki as a great opportunity to create a unique regional resort that suits the strengths of the region and our consortium. We look to create an integrated resort that will promote regional tourism and businesses, will revitalize the local community and bring out the best of local and international culture," he added.
"We plan to expand through various alliances with leading overseas companies in the industry, Japanese regional companies in related fields and domestic and overseas investment companies. Pixel Companyz aims to connect Japan to the world and showcase the best of the country by forming this consortium and deeply rooting ourselves into the Japanese IR industry."
Pixel Companyz and Groupe Partouche will work together with their consortium partners to plan, develop and operate a premier integrated resort in Nagasaki. The consortium aims to develop an IR unique to Nagasaki that will highlight the tourism assets, food culture, brands and the hospitable culture that the country has to offer.
As a result of this agreement, Pixel Companyz, listed on the Tokyo Stock Exchange, becomes only the second Japanese IR consortium leader to have partnered with a proven international gaming operator.
The inclusion of Groupe Partouche contributes another extraordinary aspect to Pixel's Japan IR consortium, which aims to incorporate aspects of Japanese, Asian and European culture into a unique and symbolic IR facility. Groupe Partouche brings nearly 50 years of extensive casino business experience in the competitive European gaming market and is also known to progressively introduce new technology and data analysis methods to their operations.
Pixel Companyz and members of the consortium have been in continuous communication with Nagasaki prefecture and will continue with preparations to meet the Nagasaki RFP schedule upon its announcement in the near future. Nagasaki prefecture is one of the few local governments in Japan that have officially moved forward with integrated resort development and has strong political and economic support from the other
prefectures of the Kyushu region.
Alongside Groupe Partouche the consortium includes TTL Resorts and leading gaming finance analyst Alidad Tash (2NT8). Renowned architect Paul Steelman will design the project. The consortium will continue to add domestic and international partners to work with the aforementioned gaming industry experts, which along with Pixel Companyz' experience in business and development in Japan, will form a well-accomplished team for realizing an integrated resort in Nagasaki.