By
Phil
- 21 March 2022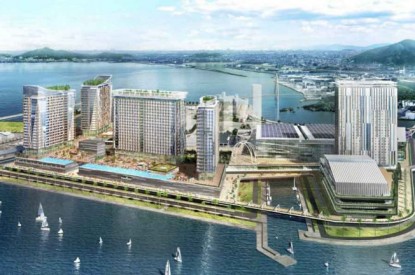 A special prefectural committee has given its approval to the Wakayama Prefectural Government for Clairvest and Caesars Entertainment's plans for a Wakayama Marina City-based world-class integrated resort (IR) in Japan.
The plan is to build an IR at Wakayama Marina City, covering 569,000 sq. m. with the gaming floor taking up 38,000 sq. m. There will be 2,700 hotel rooms, an international exhibition hall and conference hall and a focus on nature with a theme of 'a land of wood and a land of water.'
The proposal still needs to get a plenary vote at the Wakayama Prefectural Assembly.
Clairvest has confirmed it has received letters of interest from nine potential investors and four financial services firms.
Caesars joined the project's consortium back in September. The combination aligns Clairevest, one of the most experienced IR development and management teams in the world, with Caesars Entertainment, one of the gaming industry's best-known brands and an elite casino operator.
The Clairvest team is comprised of a complement of IR industry professionals and operators, including; Mario Ho an Esports and entertainment entrepreneur, director of CNV and Chairman and Co-CEO of NIP Group, a multinational Esports organisation; Clairvest Group, a seasoned Canadian private equity firm with experience in 30 different land-based gaming and entertainment resorts in Canada, the United States and Chile; and William Weidner, former president and chief operating officer of Las Vegas Sands Corp. (LVS), and his team comprising of Bradley Stone, former president of global operations and construction at LVS and Garry Saunders, former COO of Melco Resorts & Entertainment and VP of international operations for LVS.
The Wakayama Prefectural Government hopes to open the integrated resort by 2026.
Japan's Prime Minister Fumio Kishida recently repeated his belief that introducing casinos would boost tourism.