By
Phil
- 3 June 2021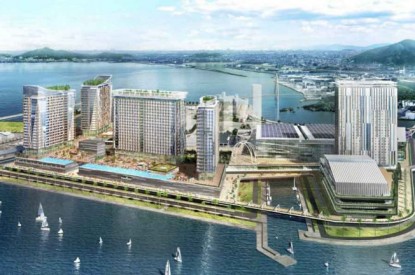 Toronto-based private equity firm Clairvest Group has been confirmed as the chosen operator for the Japanese city of Wakayama, giving the prefecture the lead over the over three regions known to be pursuing Integrated Resort casinos.
Clairvest will spend US$4.3bn on an IR on Wakayama Marina City, covering 569,000 sq. m. with the gaming floor taking up 38,000 sq. m. There will be 2,700 hotel rooms, an international exhibition hall and conference hall and a focus on nature with a theme of 'a land of wood and a land of water.'
Governor Yoshinobu Nisaka, said: "We can take the next step with confidence. Moreover, we will probably be able to obtain national approval if we improve on the plan. Our process is the fastest and has the most certainty."
Clairvest Group said, "It is a great honor to be selected as a preferential candidate in the operator open recruitment. We hope to realize an IR ideal for Wakayama and create a wonderful plan with the prefecture based on sufficient discussion with the people of Wakayama. We will do everything we can to be selected by the national Japanese government."
Wakayama added: "The selection of a priority candidate takes us another step closer to realizing a Wakayama IR. We want to work together closely with the prefecture and make every effort to create the best plan for Wakayama as a city."
Suncity Holdings, who pulled out of the race last month, actually scored higher than Clairvest. Suncity has evolved from a Macau junket operator into an operator of Integrated Resort casinos with Tigre de Cristal Resort in Vladivostok, Hoiana in Vietnam and soon Westside City in the Philippines.
Wakayama said it would now ask for 'further refinement of the proposal contents [from Clairvest] and strengthening of the project implementation system.
It added: "In addition, in order to contribute to the promotion of the regional economy through the development of the local economy and the creation of local employment, when strengthening the project implementation system, we will request the creation of an all-Wakayama system in which businesses in the prefecture can widely participate.
"On top of that, we will create an excellent area development plan that will greatly contribute to regional development and contribute to the national tourism-oriented policy, and apply to the country by 28 April 2022, which is the application deadline."