By
Lewis
- 15 June 2021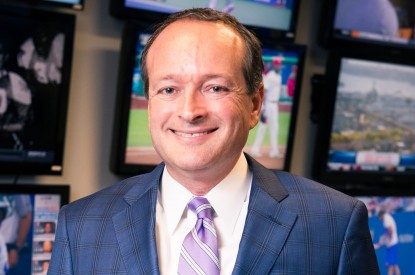 Lost amidst the noise surrounding the completion of William Hill's €4bn acquisition by Caesars Entertainment on April 22, Joe Asher, CEO of William Hill US, quietly slipped out the door.
Under Joe's leadership, William Hill expanded from its birthplace of Nevada to operate in more than 160 locations across 15 states, taking one in every four sports bets placed in the country. Despite his successful tenure, Caesars did not prepare a formal statement regarding Joe's departure.
In a candid interview with G3, Joe looks back on his tenure, the acquisition and the future of the William Hill brand. The former CEO, whose LinkedIn description now reads 'Unemployed!', also discusses the swell of stateside M&A activity and his future in the industry.
BITTERSWEET
In 2011, William Hill acquired three American businesses – American Wagering, Inc., Cal Neva Sportsbook Operations, and Brandywine Bookmaking, where Joe served as President and CEO. Looking back over the last decade, Joe details his overriding emotions on his time at the company and parting ways.
"The business has come a long way. I remember looking at the initial projections in the William Hill Board paper to approve the deals – which I didn't see before it was presented – thinking 'we'll never do that well. We won't make those numbers.' We went on to surpass them every year.
"Overall, it was a great run. The business grew massively, and we built a really great team of people. Mobile drove the growth, but we maintained a strong retail business in Nevada and were always seeking further expansion opportunities. After PASPA was overturned, there was hyper expansion as various states legalised sports betting.
"I take great pride in what we accomplished over the nine years. It was an unbelievable run going back to when I started Brandywine and the sale to William Hill. I remember very well the period between us signing the deal to sell and the dealing closing.
"I feel good about the sale of the business to the biggest casino company in the world, but it's bittersweet – I'll miss the people. It's nice to have all that weight off my shoulders and to be out of the grind. It's a grind when you are running a business of this nature. You are all-in. It's nice to have a breather to consider what to do in the next chapter.
"One of my favourite stories is when I met Ralph Topping, CEO of William Hill at the time, for a meeting with some analysts in London to talk about the US market. During the meeting, someone asked what the name of the company was going to be for its US facing business.
"I said: 'Well, the Leroy's brand is pretty widely known across Nevada, especially in Las Vegas and has been around for a long time; Cal Neva has a good brand, particularly in Northern Nevada. We have also done a good job establishing the Lucky's brand over the last few years. So, we will hire a consultant and get some advice and conduct some focus groups to help decide what the brand should be, and then it will be William Hill.'"
Given the former CEO's vast experience, contacts and industry nous, why did the two part ways? Who ultimately decided to cut the cord?
"It was a very easy conversation with Tom [Caesars chief executive, Tom Reeg]. I had been doing this for quite a while, during a very intense period of time, and it was a logical time to step down. Besides, when do you leave a business? Do you die in the chair? I woke up to dozens of emails every morning and received hundreds every day. There is no such thing as a day off in the business with major sporting events mostly taking place on weekends; it's tiring and this was an obvious time for a transition for me personally.
"From the Caesars perspective, the focus turns towards integrating the business they bought with all the assets they have and how best to exploit the opportunities. It makes a lot of sense for Caesars people to be the ones overseeing that because they have an understanding of the broader Caesars ecosystem. So, the stars aligned – I was ready to go and they were willing to let me go at the closing of the deal. I can't say enough good things about Tom and the Caranos- it's a very warm relationship and I look forward to seeing the business reach new heights under their ownership.
"I'm an unofficial consultant if they ever want my two cents on something. I think everyone is happy with how it worked out, but there is certainly an element that the business was my baby. It's not just the people I worked with every day but our business partners as well, some of whom I still speak with regularly."
"It's all about those relationships and people you enjoy spending time with. While it's a business relationship, you become friends with these people. I am going to continue keeping my finger close to the pulse of the gambling business because it's something I've grown up around. It's in my blood and always will be."
As a teenager, Joe held management positions at several racetracks and was the Wilmington News-Journal's thoroughbred racing handicapper for Delaware Park, prior to becoming the youngest track announcer in North America, calling races at Harrington, Foxboro, Brandywine and Dover Downs. Over the last several years, he has called a few races at the Elko County Fair in northern Nevada. One of Joe's aforementioned business partners turned personal friend, Dennis Drazin, Chairman and CEO of Darby Development LLC, the operator of Monmouth Park, had a business proposition for the newly unemployed Joe.
"Dennis Drazin told me that they don't have a track announcer for Memorial Day at Monmouth Park and asked if I'd be interested to call the races. Unfortunately, I can't make it because one of my daughters is in a soccer tournament that weekend."
ALWAYS A POSSIBILITY
Initially in Nevada where William Hill had become the first European gaming operator to be awarded a full gaming licence by the Nevada Gaming Commission, Eldorado, who would later own the Caesars brand, has partnered with the operator since 2012.
In 2018, William Hill and Eldorado Resorts announced a nationwide partnership for digital and land-based sports betting. The partners agreed to invest in the development of in-venue sportsbooks, as well as developing the infrastructure to support in-casino, online and mobile sports wagering.
William Hill was granted the right to operate online sports betting under the first skin to launch via Eldorado's licence – in markets that require online operators to have a land-based partner – as well as offer online casino and poker under any second skin launched via Eldorado's licence where regulation permitted.
In return, Eldorado was granted a 20 per cent equity stake in the William Hill US business, as well as 13.4m ordinary shares in the operator's London-listed parent company.
"We had a long and warm relationship with Eldorado Resorts, initially running one sportsbook for them in Reno before they bought out a joint venture partner and we started operating additional sportsbooks. They went on a rapid expansion phase, and we wound up doing a deal with them where they got a 20 per cent interest in the William Hill US business and some shares in the plc, and we got the right to operate their sportsbooks in properties that they currently owned and anything they might acquire in the future.
"We always thought there was a chance that they might one day own all or part of Caesars. Obviously, we didn't know for certain, but we reckoned there was a pretty good chance it could happen.
"Of course, that is how it subsequently played out – Eldorado acquired Caesars and we got the right to operate the Caesars sportsbooks as well. That was the evolution of the relationship and, ultimately, they decided to control their own destiny around sports and made an offer to buy the entire company with the idea of then selling its non-US businesses.
How did you feel about the decision to accept the acquisition offer? "It was the Board's decision to accept the offer so that question is better posed to them.
What I would say is that when PASPA was overturned, we started looking for a partner who could guarantee us access to as many states as possible. Certainly, the expectation, which has largely borne out, was that licenses were going to go to incumbent casino companies in the various states. We were looking for a partner who could get us access into those markets."
WILL THE WILLIAM HILL BRAND SURVIVE?
Founded in 1934 by the man himself as a postal and telephone betting service, it wasn't until 1966, five years after betting shops became legal in the UK, that William Hill bought into the high street and started to acquire existing businesses.
Ask a British person strolling along the high street about William Hill in 2021 and they will likely speak of its heritage and presence in towns and cities stretching back decades. Conversely, the newly formed William Hill US had a relatively blank slate with its American consumers back in 2012.
"I think we tried to use the heritage, but fundamentally the brand developed its own identity in the United States. I'm not even sure the majority of American customers would know the company has British roots. Instead, they see it as somewhere to place a bet, get a fair price and have a good experience.
"We certainly used the heritage in meetings with prospective business partners and it clearly helped in that regard. For example, in the deal we did with Monumental Sports for the sportsbook at Capital One Arena, Ted Lionsis was keenly aware of the William Hill brand and sent me a photo of a betting shop when he was in London for a trip. While business partners were familiar with the company's heritage, the US facing business took on its own identity with consumers."
To significant media fanfare, last month saw the opening of William Hill's sportsbook at the Capital One Arena in Washington, marking the first sportsbook in a professional US sports facility. Replacing the temporary space unveiled in 2020, the operator's offering now spans 18,000 square feet over two floors.
Joe believes the sportsbook opening is a seminal moment for US sports betting: "I was there for the official opening and spent some time with Ted and his team, as well as with Tom and the Caesars team and my former colleagues. It was great to see the vision come to life after we worked on it for so long and during the tough COVID period that we got through together with our partner.
"It's a great facility and obviously it is significant that it is inside a professional sports arena and in our Nation's capital. I was very focused on the fact that the venue needed to be great – a showcase not just for us, but for the entire industry. The arena sits in the heart of downtown Washington, equidistant between The White House and the US Capitol and it sits on top of one of the busiest subway stations in the country; it's a tremendous location.
"Also, the food is excellent. In keeping with the "it has to be great" mindset, we hired a local Michelin-starred chef to oversee the food menu. This is a must-see place when you go to Washington."
Following the death of Mr William Hill in 1971 one year after retiring from the business, the company became part of the Sears Holding Group. Acquisition became a major driver for the growth of the business over the next decades and the number of betting shops in the UK peaked at 14,750 in 1973.
Between 1988 and 1999, the company was acquired four times (by Grand Metropolitan, Brent Walker, Nomura and Cinven and CVC Partners), prior to floating on the London Stock Exchange in 2002 at an offer price of 225 pence per ordinary share – an offer oversubscribed in excess of 10 times.
Despite changing hands several times, the William Hill brand has endured. In May, Caesars said it will rebrand the operator's retail sports betting operations from William Hill to Caesars and the online sports wagering app to Caesars Sports, with an eye on having both in place ahead of the upcoming football season.
"We're going to rebrand our books at Caesars, rebrand our apps as Caesars Sports, and tie our business into our Caesars Rewards database," Mr. Reeg explained on an earnings call. "As I look to what's out there in sports, and do the analysis of the numbers, there are some things that make us optimistic. There's a great correlation between spend and market share at this point."
Despite this, Joe firmly believes the William Hill brand won't be disappearing from public consciousness anytime soon. "The William Hill brand is prominent in Nevada; you need only look at the Golden Knights game that was on television yesterday (Minnesota Wild defeated the home side 1-0) to see the William Hill logo right behind the net. I think you will continue to see the William Hill brand in many of those third-party properties, but that'll be up for Caesars to decide going forwards.
"Right at the beginning of COVID-19, I appeared on Fox Business Network's Varney & Co., a popular morning business show hosted by Stuart Varney, who happens to be British. It was back in the bleakest days of the pandemic when everything was shutting down and no-one knew what was happening.
"I said to him that 'William Hill has been around longer than we've been alive, and it'll be around long after we're dead.' That was my view for the future of the brand, and I stand by it now. It has a great heritage in the UK going back to the individual himself. The company has had different owners over time, and this is just one more ownership change."
Alongside Caesars' intention to sell off William Hill's retail locations in the UK, MGM's recent approach for Entain would also likely see the Ladbrokes, Coral and Gala brands and retail locations put in jeopardy.
Last month, Caesars' chief executive announced that the operator will begin the process of selling William Hill's non-US assets in the next two months, with the aim of finding a buyer in 2021 and closing the deal within a year. Joe disagrees with the view that an institution such as William Hill, a business founded in 1934, being picked apart for its value in the US market, is little more than asset stripping.
"I don't see it [asset stripping] that way. I see it like this – you have retail and you have online. There is a lot of growth online and I happen to be a very passionate believer in retail. Retail is not going away – people have been talking about its demise ever since I started paying attention to the business.
"Caesars has been very clear that they are a US-focused company and are not necessarily the best owners of a business that is located in the UK. They have stated they intend to sell that business, but I don't see that as an asset stripping or a negative. I think it just reflects the desire of this particular owner."
AN M&A FLURRY
Sportsbooks are massively growing in influence in casinos and stadiums as operators turn their attentions to online sportsbooks. Las Vegas Sands is selling its properties and will be in a previously unfathomable position of not owning any of its businesses in Las Vegas. I ask Joe what is facilitating this change and what is says about the competitive nature of the Las Vegas Strip.
"On Las Vegas Sands, let's put it into context. Las Vegas Sands own what is commonly thought of as two properties in Las Vegas: The Venetian and The Palazzo. As a technical matter, they are actually one property for gaming licensing purposes because they are connected. They [Las Vegas Sands] clearly got an offer that they thought was compelling and decided to accept.
"The Strip is often underestimated for how competitive it actually is. There is a lot of capital that's required to be continuously invested – you can build a property but then you have to maintain and upgrade it. I recently read that Wynn is doing a $200m room renovation and Resorts World is opening next month, adding another 5,000 hotel rooms to the Strip.
"Las Vegas Sands decided the offer was too good to pass up for the shareholders. The bulk of their business is in Asia between Macau and Singapore, and it's been widely reported they are pursuing other opportunities in the US. I don't know whether it necessarily harkens to anything other than the facts and circumstances of the case.
"On the flip side, when you've got an incredibly sophisticated outfit like Apollo spending a lot of money to buy a retail asset in Las Vegas, they clearly believe very strongly in the future of Las Vegas."
In 2021 alone, Bally's Corporation has acquired Monkey Knife Fight ("the fastest growing daily fantasy sports site in North America"), SportCaller ("a leading global B2B free-to-play game provider"), MontBleu Resort Casino & Spa, and Tropicana Las Vegas Hotel and Casino, as well as a multi-billion merger with Gamesys Group.
With Bally's seemingly eating up businesses regardless of the cost, Joe didn't try to explain the strategy and rationale: "I don't know. I read the news as you do so we will see how it all plays out and what they wind up doing. Despite William Hill operating a few sportsbooks in Bally's casinos, I don't know the people at the company particularly well."
Asked in an abstract sense how one could even begin to successfully integrate so many disparate companies with overlaps between different systems and people, Joe opined: "Integrations are always the work that comes out of any M&A activity. If you do it right there is great reward, but it's not without challenge. You can't overestimate the amount of work involved."
Looping back to William Hill, Joe expects a big effort from Caesars to integrate sports betting with the online gaming business and the World Series of Poker the company currently operates.
"We were operating their sportsbooks, but not their online gaming. Now, they have the ability to integrate those product offerings with a common wallet and the Caesars Rewards database which will be a big focus for the business going forward.
"They are going to introduce hundreds of thousands, if not millions, of customers into the broader Caesars ecosystem. Those sports bettors may then want to visit Caesars Palace or go to the regional casinos they own, and they'll have those customers for the next 30 or 40 years."
THE FUTURE
Having discussed at length William Hill's acquisition, the parting of ways and the wider US gambling scene, Joe signs off by discussing his personal future.
"I have been working since I was six years old so it's nice to have a pause. I'm not sure what I'd do if I were to retire. I want my children to see their dad working because it's important to develop a work ethic. Truthfully, I don't know what's next. It will be nice to have some time off over the summer with the kids in Del Mar and try and pick some winners at the racetrack now that fans are allowed back in.
Seeing folks at the opening day of Del Mar every summer is how some racing fans mark the passage of time – you're happy to have lived another year to see another opening day; I literally walk around and hug my friends and we celebrate being there another year and it will be even better this year since no fans were permitted due to COVID last year."
Tongue in cheek, this reporter informs Joe of four potential destinations mentally mapped out for the industry veteran, naming three: join a business, buy a business or sit back as a consultant. Not one to miss out on detail, Joe asks for the fourth – "retirement". The disappointment in the subsequent 'oh' reverberated across the Atlantic.
"I'll consider my options. I could go and work for a company, buy a business, sit on a few Boards, do some consulting – I just don't know. I'll see what the opportunities are and what makes the most sense. I still enjoy talking and thinking about the gambling business – it energises me. I will undoubtedly continue my involvement and try to do something productive."