By
Phil
- 8 July 2014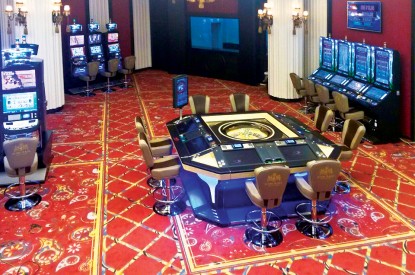 The grand opening of Royal Plaza Casino in Kapchagay, Kazakhstan, has signified the launch of a new market for Euro Games Technology with slots from the Bulgarian manufacturer installed for the first time in the region.
Radostina Valcheva , Director for EGT Georgia, said: "By presenting a wide range of gaming equipment, we aimed to meet the personal preferences of each customer. We introduced one of EGT brand new products from the Premier series – the upright Cabinets P-24/24 Up together the popular Multi-3 and Multi-4 multigames from the same series."
EGT's Premier P-24/24 Upright cabinets made their debut in the region. The video slot machines from the Premier Series offer a sleek, ergonomic design and advanced technical characteristics. The P-24/24 Up is available with different multigame mixes which contain attractive titles from EGT's ever expanding games library.
In addition EGT introduced the sophisticated electronic Roulette Vega-R8 with its elegant appearance with elements and illumination in an attractive blue shade. The combination of software innovations and modern design offered by the Vega-R8 roulette is a guarantee for the entertainment of the players and the operator's satisfaction.
To complete the collection of quality gaming products, EGT also installed its Cat4Cash multi-level progressive jackpot system with its four level progressive jackpot as well as an entertaining animation shown on 40″ LCD – TFT displays. Cat4Cash is available with two multi-games which contain some of EGT most popular game titles.
The whole installation includes more than 50 machines from the Premier and Vega Vision+ Series, all of them equipped with the advanced Premier software, two Vega-R8 Automated Roulettes and the entertaining Jackpot System Cat4Cash. More than 40 machines are connected into a local network to accumulate and distribute additional jackpots through the EGT Vega Jackpot System.
"Our products have been highly appreciated by the players at Royal Plazza Casino which makes us proud and contented. EGT promises to carry on with the successful installations in the region. We are making our best to please our customers and to offer quality entertainment to the players," added Radostina Valcheva.