By
Phil
- 26 February 2018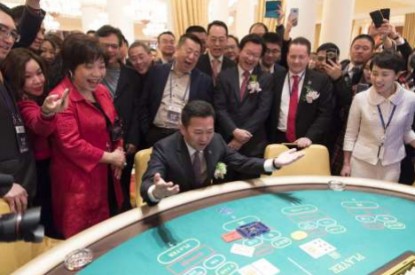 Landing International has now opened Jeju Shinhwa World Landing Casino, located in Jeju Shinhwa World Marriott Resort.
Dr.Yang Zhihui, pictured, Chairman and Executive Director of Landing International and Jay Lee, CEO of Landing Jeju Development Co., Ltd. officiated the opening ceremony of the casino and unveiled plague of Marriott Resort in the morning.
The Group received on 21 February the approval from the Government of Jeju Special Self Governing Province to relocate its Landing Casino to Jeju Shinhwa World, and increase the exclusive gaming floor area to approximately 5,500 square meters, about 7 times of that of approximately 800 square meters in its old property at Hyatt Regency. Jeju Shinhwa World Landing Casino houses 155 live gaming tables including Baccarat, Poker, Black Jack, Roulette, Tai-sai, and 239 cutting-edge slot machines and electronic table games.
Jeju Shinhwa World Marriott Resort, the first international brand resort facility in Jeju Shinhwa World and the only Marriott brand hotel on Jeju Island unveiled plague today, started operation in December last year. It comprises 627 luxury guest rooms in various types, among which 30% are connected rooms, and 12 suites which combine traditional Korean design influences with understated modern design, along with eight meeting rooms. Five food and beverage outlets, including Le Chinois, Jejuseon and Café the Islet, offer a dynamic selection of dining choices, from Chinese fine dining to Korean cuisine and casual international fare. Another highlight is Mosil, the clubhouse themed Jeju's famous attraction Seongsan Ilchulbong, that equipped with an indoor swimming pool, an outdoor heated pool, spa and other facilities.
Dr. Yang Zhihui said, "The opening of Jeju Shinhwa World Landing Casino marks the full opening of the Phase 1 of Jeju Shinhwa World. We are now one of the few integrated resort operators in Jeju and Korea that could offer to visitors a complete world-class hospitality, leisure and entertainment experience. In 2018, we will focus our efforts on operating Jeju Shinhwa World to deliver on our promise to make Jeju Shinhwa World into a tourism destination under the spotlight on Jeju Island that the residents will be proud of."
Jeju Shinhwa World was opened in phases. In April 2017, Somerset Jeju Shinhwa World, the first world-class full-serviced resort condominium in Jeju was opened. In September 2017, Shinhwa Theme Park, in partnership with TUBAn Company Limited, a premier 3D animation company in South Korea, welcome its first customers. Jeju Shinhwa World Landing Resort, Landing Convention Centre and YG Republique (which is a collaboration with YG Entertainment) were opened in November 2017 while Jeju Shinhwa World Marriott Resort and Shinhwa Shoppes were opened in December 2017. The opening of Jeju Shinhwa World Landing Casino marks the full opening of the Phase 1 of Jeju Shinhwa World. Construction works of Phase 2 have been commenced. Waterpark and Shinhwa Hotel are scheduled to open in the middle of 2018. A luxury Jeju Shinhwa World Four Seasons Resort & Spa in the heart of Jeju Shinhwa World, and Lionsgate Movie World, the first branded outdoor theme park built exclusively around world-famous movies at Jeju Shinhwa World are expected to be opened in 2019/2020.