By
Phil
- 16 November 2023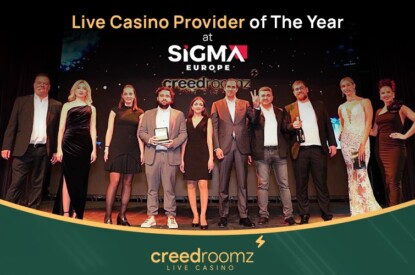 CreedRoomz has been officially titled as the Live Casino Provider of the Year at the prestigious SiGMA Europe Awards 2023.
This highlights the company's unwavering commitment to developing the live casino sector through innovative solutions and exceptional service delivery.
Over the past year, we've expanded our partnership network to over 1000 global partners, showcasing the trust and value we bring to the iGaming community. Our game portfolio has grown from 18 to 24, solidifying our position as industry leaders.
The introduction of culturally rich gaming halls, including the Indian and Brazilian tables, demonstrates CreedRoomz's dedication to embracing global diversity in the gaming industry.
"The SiGMA Europe award is a testament to our team's hard work and our commitment to delivering the highest quality live casino experience," said Hayk Tovmasyan, Head of CreedRoomz. "Our mission is to continually set new standards within the live casino market, and this recognition fuels our drive to innovate and lead from the front."