By
Lewis
- 27 April 2021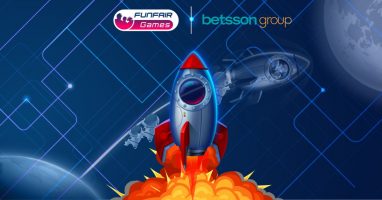 FunFair Games has unveiled its first real-money multiplayer title, AstroBoomers: To the Moon!, with Betsson Group agreeing an exclusive deal to take the game across its brands until its network wide release in early May.
The release invites communities of like-minded players to escape to the moon in a rocket, with prizes of up to 2,500x won by those who jump to safety at the right time.
Gamers can challenge their fellow astronauts' nerves by staying onboard for as long as possible to claim maximum rewards, placing up to three bets per round for galactic wins, or strategically selecting the auto-eject options.
Lloyd Purser, COO of FunFair Games, commented: "We're delighted to announce the lift-off of our exciting debut title, AstroBoomers: To the Moon!, which we think will be the undisputed king of crash games.
"The simple yet compelling gameplay offers the kind of active and community-based experience demanded by a new generation of players and putting a fresh spin on the content available within today's largely solitary slots sector.
"Slots will always have their place, but the move to multiplayer within real-money gaming has arrived quicker than many anticipated and there is a big demand for innovative and differentiated content that appeals to Gen Y audiences.
"Its growth has arisen through a new generation who are constantly connected, enjoy simple, social concepts they can share and who we believe will take this form of gaming to a global scale.
"It's fantastic to see our release launch exclusively with such a well-known operator as Betsson Group, and we're sure it will prove popular with its extensive player base as we build up to the title's eagerly awaited network launch!"
Paul Malt at Betsson Group added: "We're thrilled with the opportunity to exclusively introduce AstroBoomers: To the Moon! to our customers, and feel confident that it will be enthusiastically received across our player base.
"FunFair Games is a highly innovative content developer and is pioneering the introduction of real-money multiplayer games in our sector. We look forward to working with our new partner in what will undoubtedly be a commercial relationship of strong mutual benefit."
FunFair Games' second multiplayer title, Wheel Of Steal, is set to launch in June.