By
William
- 21 October 2021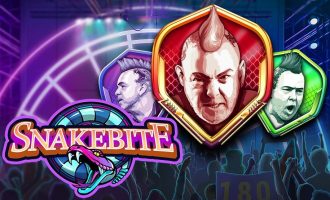 Play'n GO's latest title sees players enter the world of darts following a collaboration with world-renowned darts player, Peter 'Snakebite' Wright.
A classic 5×3 slot game, the standout feature is 'Snake Spins'. It is triggered by two or more Dartboard Scatter symbols that land on reels one to four and a Snakebite symbol on five. The 5×3 transitions to 5×5 with a three-dimensional Snakebite character positioned to the right of the reels.
Symbols reflect the look of key features seen in the world of darts and Peter 'Snakebite' Wright's style. Often, he appears on the reels, amongst bright colours in a nod to his ever-changing hairstyles. The Snake Snap symbol in neon-effect shades and graffiti-style design pops on the reels.
The Play'n GO design team have, together with IP rights holder 5th Planet Games, used a combination of visuals and audio to focus on the atmosphere of a darts tournament. Winning moves are followed by the crowd cheering and the release of fireworks; Snakebite himself appears on the board, encouraging the player.
Play'n GO's Head of Games, Charlotte Miliziano, said: "We're excited to expand our IP portfolio into the world of sports stars. We didn't just want this to be a game; we wanted this to be an event. Peter' Snakebite' Wright is renowned for his personality, and in darts, he has a huge following, so we wanted to do that justice."