By
Phil
- 19 June 2023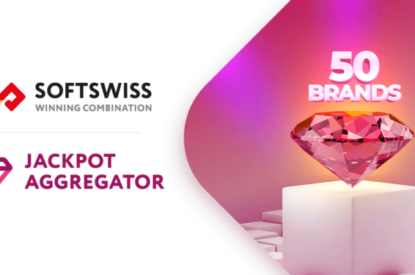 The SOFTSWISS Jackpot Aggregator, a revolutionary solution for increasing player engagement and maximising operator revenue, have launched jackpot campaigns for an impressive roster of 50 online casino brands.
Adding to the significance of this milestone, it is truly remarkable that the esteemed 50Crowns brand has become the 50th online casino powered by the cutting-edge solution offered by SOFTSWISS.
50Crowns is a multi-currency casino, operating under a Curacao licence, that allows players to bet using the most popular fiat and cryptocurrencies. The Royal Jackpot campaign, fuelled by the unmatched capabilities of the Jackpot Aggregator, is set to deliver an unparalleled gaming experience with its progressive prize pool across Minor, Major, and Grand categories, while unlocking tremendous potential and substantial gains for the operator.  
SOFTSWISS, an award-winning software provider for the iGaming business, introduced the groundbreaking Jackpot Aggregator towards the end of 2021. Since its launch, the product has undergone notable advancements, especially during the previous year, significantly reinforcing its functionality. According to the company's latest news, players across various client brands have successfully claimed a staggering number of over 16,000 jackpots. This outstanding achievement serves as a testament to the soaring popularity of jackpot campaigns among avid users, solidifying the Jackpot Aggregator's position as a true game-changer in the industry.
The SOFTSWISS Jackpot Aggregator stands out in the market for its exceptional offering firstly because of its comprehensive service. The solution not only grants operators flexibility to customise jackpots based on their unique business goals but also offers full support from technical and business account managers. These experts guide operators through every stage of the jackpot campaign, from initial idea conception to successful launch and in-depth analysis. What sets the team behind this multi-functional solution apart is their extensive experience in running jackpot campaigns for multiple brands within the same online casino group, showcasing their professionalism and unrivalled expertise in delivering outstanding results.
The lineup of 50 brands powered by the Jackpot Aggregator features highly acclaimed representatives from the iGaming industry.
Aliaksei Douhin, Head of SOFTSWISS Jackpot Aggregator, comments on the product milestone: "It gives us great pleasure to witness the remarkable growth of the SOFTSWISS Jackpot Aggregator, both in terms of functionality and the number of brands that choose to launch jackpot campaigns with us. We are proud to announce that we now have 50 brands on board! I extend my heartfelt gratitude to the Jackpot Aggregator's team for their exceptional professionalism and to our esteemed clients for placing their trust in us."
"Over the past three months, we have made significant strides. For instance, the total amount of bets participating in our jackpot campaigns has surpassed 1 billion euro, marking a great milestone. We would also like to emphasise that, alongside the established methods of collaborating with players and game providers for running jackpot campaigns, our clients have developed their own highly effective strategies. These strategies have contributed significantly to enhancing the efficiency of jackpot campaigns and boosting business revenue."