By
Phil
- 8 March 2022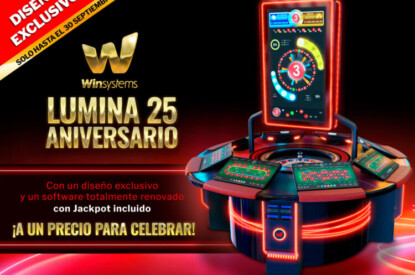 Win Systems, the leading provider of technology for the gaming and entertainment industry, has announced the launch for the Spanish market of its new electronic roulette, the Gold Club 25th Anniversary. As its name suggests, this launch is made to celebrate the company's anniversary. The eight-position model is a limited edition, that is, it will only be on sale until September 30, 2022.
The new model has an exclusive design, with attractive lighting that makes it incredibly colorful and eye-catching at the venue floor, as well as several improvements in its software specifically developed for the Spanish market, such as a new design of the game layout, and significant improvements in the converter and in other software elements, which have been successfully tested over the last few months. Finally, to complete an offer that is already revolutionizing the sector in Spain, the Gold Club 25 Anniversary includes the jackpot and all this at a price that operators are going to celebrate for a long time.
The new model is available exclusively for the Spanish market, and will be presented at Win Systems' stand C10 at the Feria Internacional del Juego de Madrid (FIJMA'22), on March 15, 16 and 17.
Jose Luis Gonzalez, Business Unit Director Spain at Win Systems, commented: "We have been thinking for a long time about the best way to celebrate with our operators the 25th anniversary of Win Systems. In parallel we have been working very hard on improving our iconic Gold Club electronic roulettes for the Spanish market, so we thought that the best solution was to launch this new commemorative electronic roulette especially for the Spanish market, which is strategic for us. After the first reactions from the operators to whom we have shown the product, we are sure it has been a great decision. We are willing to welcome everyone at our stand at the Madrid trade-show to see it live and get even more excited."