By
Phil
- 17 October 2014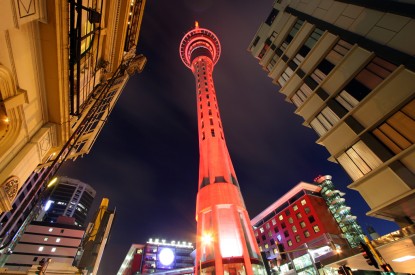 Substantial growth in SKYCITY's Auckland business, led by the excellent ongoing performance of the Federal Street dining precinct and high hotel occupancy, have helped deliver a strong start to FY15 for SKYCITY Entertainment Group.
SKYCITY Chief Executive Nigel Morrison said the first quarter of the financial year has been pleasing for the company, and with several key projects entering exciting development phases, FY15 promises to be a busy year for the business.
"We have started the year with strong momentum, with revenues across the Group up by 6 per cent on the first quarter of FY14,'' Mr. Morrison explained. "Our Auckland business has once again been the star of the show, with revenues up by just over 12 per cent, driven by a 41 per cent growth in International Business and strong non-gaming revenue growth of 17.6 per cent. Gaming revenue growth was 5.4 per cent. Our signature restaurants are performing strongly, with annualised revenues now in excess of $40m and healthy margins.''
Auckland also experienced high occupancy rates in both the SKYCITY Hotel and Grand Hotel, above the industry average, with average daily rates also up.
The transformation of Federal Street into a world-class destination is now complete and signature restaurants Masu, The Grill, Gusto, Bellota, Depot, Federal Deli and The Sugar Club are popular with locals and international visitors alike.
SKYCITY is working closely with Auckland Council on the Federal Street Shared Space Project and will be celebrating the formal opening of the street with a festival on Friday, November 7, Mr Morrison says.
Group-wide, International Business also grew strongly in the first quarter of the financial year, up 55 per cent on this time last year, and with record turnover of $2.2bn.
"We continue to see strong growth from Chinese players, our core target market for the VIP side of our business, which is not only great news for SKYCITY, but also for local businesses and tourism operators, contributing to local economic growth.''
SKYCITY Adelaide has also experienced good revenue growth overall, up 4 per cent for the quarter, underpinned by a strong International Business performance. Domestically, Adelaide's revenues continued to moderately contract as a result of the ongoing construction works but at a lesser rate, with September 2014 revenues now back at the levels they were at the same time last year.
The redevelopment of Adelaide has continued apace, and is scheduled for completion by January 2015. Celebrity chef Sean Connolly opened his new restaurant, Sean's Kitchen, to much acclaim in early October. Another of our chefs, Nic Watt, will open his French Vietnamese restaurant Madame Hanoi in January.
"We are excited about the developments being made in Adelaide and look forward to their completion – it is going to be an outstanding piece of tourism infrastructure for the city, its people and its visitors," Mr. Morrison added.
Revenues at SKYCITY's Darwin casino were effectively flat, but better cost management saw EBITDA growth of nine per cent for the quarter.
On the New Zealand International Convention Centre, SKYCITY is working closely with the Crown to achieve its objective of a landmark development for Auckland. Preliminary Design was lodged with the Crown in early October, following extensive consultations with the Crown design team.
"We would expect to apply for resource consent once agreement of Preliminary Design is reached with the Crown,'' Mr Morrison said.
SKYCITY Board Chairman Chris Moller said SKYCITY's strategic growth over the next five to ten years would be underpinned by both the International Convention Centre and the Adelaide redevelopment.
"These two projects, along with our strong offering in Federal Street and our plans to build a 300 bed complementary hotel for the NZICC, represent opportunities to add new vitality to places that must compete for visitors and investment against an increasingly competitive backdrop globally. SKYCITY is committed to urban development and renewal, and in enhancing the cities in which we operate, and we are looking forward to seeing these significant projects evolve over the next couple of years.''