By
Phil
- 24 February 2017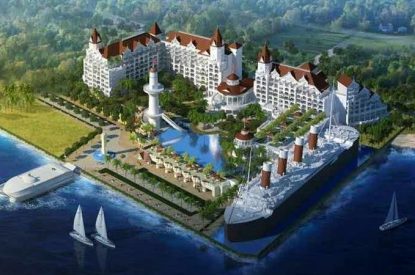 An online petition has been launched to try and kick-start the opening of a planned Titanic-themed casino resort on Tinian in the Northern Marianas.
Hong Kong-based Bridge Investment is spending US$130 on the Tinian Ocean View Resort and Casino, which has run into trouble following a lack of permits from government. The investment group has launched the online petition at www.change.org/p/cnmi-government-support-b-i-g-developments-on-tinian.
The casino would be situated at the former locations of the Tinian Stevedore, Customs, Immigration and Quarantine buildings, CPA warehouse and Brown Tree Snake Office.
Bridge CEO Philip Mendiola-Long said the company was looking to boost Tinian's economy by providing a reliable means of transportation to and from Tinian with its development of a ferry service. It has spent over US$3m building a new ferry terminal.
The process has stalled due to delays in receiving approvals from Coastal Resources Management. It has claimed that casino gaming is not considered a port-related activity and so it can't issue a permit on that basis. The Department of Public Lands added that the 40-year lease is in violation of its grant of public domain to the Commonwealth Ports Authority because casino gaming is considered illegal on its premises.
Bridge Investment argues though that the Tinian casino is a port-related project because it will serve as a hotel accommodation for passengers who arrive on Tinian via the ferry.
It said: "After two years of planning and development, BIG encountered a regulatory barrier in that certain Commonwealth regulatory agencies determined that BIG's proposed activities at the Tinian Harbor did not meet the technical definition of port-related activities.The law is not ambiguous: the Tinian Ocean View Resort and Casino is a 'project' and that the ferry is undeniably a port-related activity. The project is being constructed in and around 'land and water areas of particular concern surrounding the commercial ports of the Northern Mariana Islands which consists of projects, industrial uses, and all related activities' as defined in the Coastal Resources Management regulations."
Tinian politican Edwin Aldan is looking to resolve the legal issues by introducing a new measure, House Bill 20-23, that will define 'industrial port use' and 'port-related operations.'
If the approvals are granted the casino will open in two phases. Bridge Investment had wanted to start construction work on the casino in January last year. Phase one will include the primary hotel and casino and phase two will expand the casino program into an adjoining Titanic replica, which sits on Tinian Harbor. The expanded casino and hospitality accommodations within the Titanic replica will serve the luxury tourist market segment and high-limit gambler.