By
James
- 23 October 2023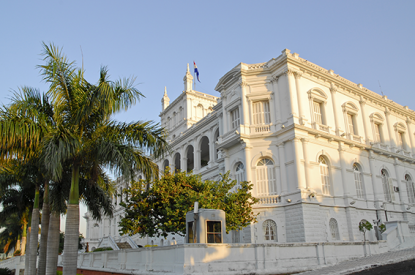 Deputy Adrián Vaesken, in his capacity as a member of the Legislation and Codification Commission, received a visit from Carlos Augusto Liseras, president of the National Gaming Commission (Conajzar) with whom he discussed the idea of modifying Law No. 1,016/97, which "establishes the legal regime for the exploitation of games of luck or chance" in Paraguay.
The lawmaker wants to make modifications to the law that would demonopolize the licensing process, because through the current system, Conajzar has been awarding licenses to games, such as sports betting, pools, lotteries, among others in a monopolistic way to a single company, for five year periods.
"The intention is to adapt the law to our highest order, the National Constitution, which in its article 107 establishes that competition in the market is guaranteed and that the creation of monopolies will not be permitted," he said.
For Vaesken, this breaking up of the monopoly would bring greater competitiveness, which will generate jobs and result in greater revenue for the state. The head of Conajzar meanwhile announced that the national Executive Branch is preparing a proposal that would seek to repeal the current law. However, Deputy Vaesken argued that gambling law reform would take longer and that what the country needs is for the current legislation to be changed quickly so that the new regulations can be put into practice as soon as possible.
The parliamentary initiative that modifies Law No. 1,016/97 will be officially presented in the coming days.
Calls have been growing for some time for changes to Paraguayan gaming laws. In January The National Competition Commission Conacom recommended that the government review Paraguay's gambling law because it allowed for licence holders to hold a monopoly over instants, pools, sportsbetting and casinos. In a statement in July Conacom questioned the terms of the tender for the latest sports betting licence and put forward recommendations on how sports betting licenses should be tendered in the future. Conacom also argued that the conditions established by the National Gaming Commission (Conajzar) discouraged competition within the sector.