By
Lewis
- 27 June 2019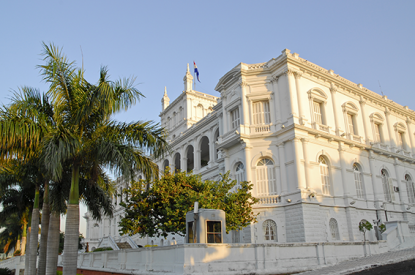 Construction of a new mega resort and casino is now underway now that the Ministry of Environment and Sustainable Development of Paraguay (MADES) has given the project the green light. Work has already begun with the hydraulic filling on San Francisco Island, on the Paraguay River where the company in charge of the project plans to establish a tourist and entertainment mega complex that will feature a casino and luxury hotel. The investment envisaged for the new complex stands at around US$150 million and includes the construction of a five-star hotel, including a convention centre for 2,000 people, restaurants, a casino, luxury shops and an amusement park.
American company Vimerica Development LLC will invest in the project via its subsidiary Vimerica SA along with local and foreign investors. Along with its local partner the company will invest in the integrated resort with Paul Steelman, majority shareholder and CEO of Las Vegas, Nevada-based Steelman Partners. Steelman Partners is an industry-leading architectural firm and has designed over 4,000 casinos and integrated resort designs around the world and specialises in designing entertainment based projects.
Vimerica estimate that the construction phase of the complex will be developed over 30 months during which time they will employ 5,000 people directly and indirectly. Once the entire entertainment complex is operational, they believe that it will involve the hiring of some 1,400 staff.
The casino will contribute about US$10m per year to the gaming board (CONAJZAR), through the payment of a 7 per cent concession fee on the profits (income minus prizes) during the 25 year duration of the license, the company said. Construction will involve the extraction of sediment from the river bed which will then be transported in order to elevate the island above sea level. According to the data provided by the investment firm as much as 3,000,000 m3 of sand will be used in order to achieve this. This amount "will be extracted with electric dredges that do not produce chemical or acoustic emissions," the company said.
The island of San Francisco is located in the centre of the South American country and is an ecological reserve that measures 15 kilometres long by 5 meters wide and constitutes a part of the city of Limpio located in the north of the Central Department.