By
Lewis
- 28 June 2019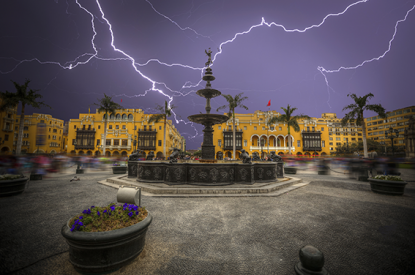 The 17th edition of the Peru Gaming Show proved to be a great success for its biggest exhibitor, Merkur Gaming, thanks to a brand new booth design, the enlarged Merkur Beer Garden and, of course, an array of great products that included a display of Merkur's newest innovation, Rapid Thunder.
The Peru Gaming Show is not the physically biggest show in Latin America, but is certainly one of the most friendly. As one of the leading brands in Peru, Merkur Gaming always bring their best of the best to the country's annual show, and this year was no exception. With a brand new stand design (created by Merkur's international show guru, Tino Fuzul) right at the entrance to the main hall and also with an enlarged, to cater for demand, Merkur beer garden, the presence this year was more striking than ever. So too were the products that the booth featured. Merkur's market leading multigame offerings were presented in the successful Avantgarde, Avantgarde Trio and Evostar cabinets and featured top line game titles already popular in Peru, plus some brand new games. The undoubted feature presentation was the first sight in Peru of the sensational Rapid Thunder that had first been previewed in the US at the recent NIGA and Juegos Miami events.
The visitor response to Rapid Thunder was nothing less than sensational. This innovative feature is an unique, high value, jackpot bonus that is built directly into favourite hot games such as Taco Tuesday, Immortal Emperor, Land of Charms and others and where players can win bonus prizes up to US$ 10,000 or equivalent in local currency. Describing this new attraction Merkur Gaming proudly stated: 'With Rapid Thunder the game has a jackpot bonus and the jackpot bonus IS the game!'
Tomas Mieles, Sales Director Latin America and general manager of Merkur Gaming Peru summed up the Peru Gaming Show by saying: "This has been a fantastic show for Merkur Gaming. The new booth is great, the beer garden was once again the centre point of the whole show and the visitors were hugely enthusiastic about the games and cabinets that we displayed. The presentation of Rapid Thunder was simply sensational and, once the necessary field trial and approvals are completed, I and our whole team are 100% convinced that we have created something special that will prove to be a big winner in Peru and beyond."
The Peru Gaming Show 2019 has proved to be the highlight event of the year so far for Merkur Gaming and, with thanks to the organisation and the many visitors that attended, we can surely say that we will be back in Lima next year for more of the same.