By
Phil
- 24 April 2014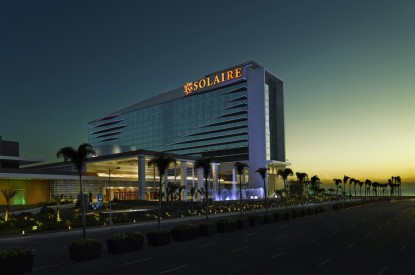 Solaire Resort and Casino has celebrated its first year as an integrated resort destination, the first of four anchor properties in Manila's Entertainment City.
However its owner Bloomberry Resorts reported a loss of around US$29m for the year. Solaire has reported a loss of around US$6m for the nine and a half months of operations that it has so far made public. With results, pending for the first quarter of 2013, Bloomberry said the loss was partly due to 'mistakes and inefficiencies' by consultant Global Gaming Asset Management (GGAM), led by former Las Vegas Sands President and Chief Operating Officer William Weidner. Bloomberry severed the management deal leading to court action in Singapore. It also applied for a court order to prevent GGAM from selling its 8.7 per cent stake in the property for US$166m.
It then employed former Marina Bay Sands CEO Thomas Arasi as its President and Chief Operating Officer.
Solaire's gaming revenues accounted for 92.9 per cent of the property's total revenues, while hotel, food and beverage accounted for 6.2 per cent. The venue opened with a gaming floor area of approximately 18,500 sq. m. including approximately 6,000 sq. m. of exclusive VIP gaming areas, with approximately 1,400 slot machines, 295 gaming tables and 88 electronic table games.
The company stated: "After a very successful opening of the property on March 16, 2013, the group focused its efforts in ramping up its gaming business. Solaire registered P14.9bn of gross gaming revenues in 2013 and P11.5bn net revenues after deducting promotional allowance, discounts, rebates paid through gaming promoters, progressive jackpot liability and points earned in customer loyalty program. The growth since opening date was the result of the group's identifying and addressing operational issues relating to GGAM's failure under the MSA and intensifying promotion and marketing efforts through unveiling creative programs, hosting special events, launching promotions and other strategic marketing activities. In the 10 months of operations the group had signed-up with about 50 junket operators to bring in foreign VIP players. The mass gaming player sign-ups also have reached 256,000 in 2013 while total visitation for the year has reached the 3m mark."
For the full year, GGR reached $333m, equating to around three weeks of revenue at Venetian Macao. Fourth quarter results have improved though with the US$125m GGR close to that of rival Philippine project Resorts World Manila. Sources said that Solaire has refocused on the local market following limited revenues from overseas players.
The first year celebrations at Solaire will see a month of property-wide events with exclusive and energetic concerts just part of the package.
Solaire's President and Chief Operating Officer and Board Member, Thomas Arasi
"It has been an incredible first year which Solaire has developed and evolved into the remarkable destination resort we are today. What better way to commemorate this special time with eclectic, fun-filled concerts and events which truly encompass so many performances here at Solaire over the past months. I would like to express my deepest gratitude to the men and women behind the organisation for helping out and ensure the success of these events."
Guest and patrons will have the opportunity to participate in everything from exciting gaming promotions and social media contests. In a span of 12 months, the casino has raffled a total of 22 luxury cars and more than Php 370 Million in total slot jackpot prizes have been given away.
The casino resort also surpassed the 1m mark in terms of likes on facebook becoming the first integrated Philippine resort to embrace social media with its own in-house digital marketing team. Jasper Evangelista, Vice President Brand Marketing, Solaire Resort and Casino, said: "This is something we are proud of and wish to express our sincere appreciation to our loyal supporters and 1m Facebook fans for their continued support as we celebrate our 1st year in business. We are glad to be able to connect with our guests through Social Media. Social Media is an essential part of their continuous efforts to innovate and provide impressive and exceptional entertainment to all their clientele. Growing engagement with fans of Solaire has contributed significantly to the business success. Social Media platforms will enhance the marketing plans of Solaire and allows them to interact and update regular patrons on all events, activities, shows and promotions."
Solaire engages its valued followers through Facebook and this platform provides them the opportunity to participate and share those special experiences of great memories. This provides an opportunity to connect our most supportive and passionate fans in a quest to find ways to enjoy and 'Create their Moments' at Solaire.
"Solaire's Facebook page has interactive postings daily on the gaming and resort promotions, events, raffle and other activities. Solaire has a strong social media presence in the Philippines and a rising presence in Asia," Mr. Evangelista added.
The hope now for the new style Philippines gaming sector is that the completion of all four Integrated Resorts will be enough to attract more tourists to the tables, lessening the current dependence on the local market. With Resorts World Manila's operating profit dropping by 38.1 per cent and net profit falling by 59.3 per cent in 2013, the arrival of Manila Bay's next competitor, City of Dreams Manila, a collaboration between Melco Crown Entertainment and Belle Corp, is seen as a blessing in disguise.