By
Phil
- 12 May 2022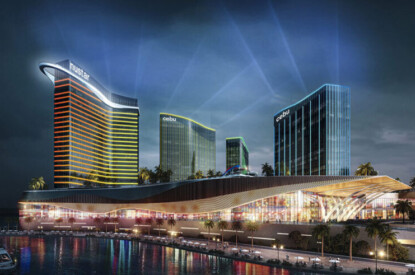 International Game Technology's (IGT) IGT ADVANTAGE casino management system (CMS) and a variety of leading IGT games and cabinets will be deployed at the soon-to-open NUSTAR Resort and Casino in Cebu, the Philippines.
This IGT ADVANTAGE deployment will connect NUSTAR Resort and Casino's impressive 1,500 slot games and 250 table games while enabling the casino to build patron loyalty, optimize its casino operations and access valuable, real-time performance analytics. It also positions NUSTAR Resort and Casino to offer cashless gaming in the future via IGT's Resort Wallet systems technology.
In addition to leveraging IGT's world-class CMS, NUSTAR Resort and Casino will be the first casino in Asia to deploy IGT's Peak49 cabinet. Complete with a 49-inch, ultra-HD, portrait, progressively curved display and a range of ergonomic and convenience features, the Peak49 cabinet is supported by a rich content pipeline for Asia. The casino will offer its guests IGT's compelling, market-attuned Ying Cai Shen link on the Peak49 and CrystalCurve cabinets and will feature a variety of other performance-tested IGT games on its floor such as Cash Cove Fish On and Lucky Buddha on the CrystalDual 27 cabinet and Golden Jungle Grand and Coin O' Mania on the CrystalCurve cabinet.
"As Cebu's premier integrated resort, NUSTAR Resort and Casino prioritizes partnerships with experienced and trusted suppliers such as IGT who can help us deliver world-class gaming entertainment and build strong guest relationships through future-forward technologies," said Sabri Jaafar, NUSTAR Resort and Casino Vice President – EGM Operations.
"By powering its gaming floor with the IGT ADVANTAGE casino management system, NUSTAR Resort and Casino is equipped with casino technology that is proven throughout Asia and delivers highly advanced patron loyalty and casino floor optimization tools," said Dallas Orchard, IGT Chief Operating Officer, Gaming, APAC. "IGT's world-class cabinets and regionally popular games such as Cash Cove and Ying Cai Shen will help NUSTAR Resort and Casino achieve its performance goals and differentiate itself through gaming experiences for the region."