By
Phil
- 27 January 2014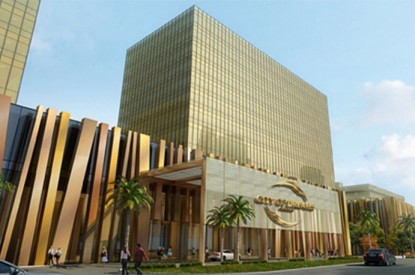 Melco Crown Entertainment has increased how much it plans to spend in its City of Dreams Manila project to US$680m following approvals from state-run Philippine Amusement and Gaming Corporation for more table games.
Chief Executive Lawrence Ho said the investment could increase further before the resort's mid-2014 opening as it adds more leisure and hotel brands.
"It keeps going up. Our most recent number is $680m because PAGCOR will allow us more tables and we keep finding great brands," Mr. Ho said.
City of Dreams Manila will open with 365 tables, 1,680 slots and 1,680 electronic table games.
Melco Crown has partnered with Filipino billionaire Henry Sy to build the City of Dreams project, with both companies committing $500m each in order to meet the government's $1bn minimum investment. Located on a 6.2-hectare site in Entertainment City, City of Dreams Manila will have boast six hotel towers with a total of 950 rooms from three hotel brands as well as a number of high-end specialty restaurants and bars. The integrated resort will house three entertainment venues, including Manila's first branded Family Entertainment Center, a live performance central lounge inside the casino and a night club situated at the Fortune Egg, an architecturally-unique dome-like structure, expected to become an iconic landmark of the Manila Bay area.
In October, Crown Hotel confirmed it would open at the City of Dreams Manila with the 260-room hotel catering to the high-end VIP and premium mass-market segments in Manila.
The second hotel deal saw Nobu Hotel commit to opening as part of the project.
Nobu Hospitality co-founders Academy Award-winner Robert De Niro, Hollywood producer Meir Teper and world renowned Japanese culinary genius Chef Nobu Matsuhisa flew in to Manila to announce the opening of the luxurious boutique hotel in the third quarter of the year.
The 321-room trendsetting Nobu Hotel will deliver a "thrilling, celebrity-inspired and
fun-luxury experience fused with the utmost quality" to visitors of City of Dreams Manila.
Nobu Hospitality Chief Executive Trevor Horwell said: "When you're going into a business relationship, you have to make sure you have the right partners. The vision for City of Dreams Manila is very important. Naturally, we believe the staff in the Philippines will be perfect to deliver the service that is truly Nobu-service."
Seen as the "ultimate playground," Nobu Hotel will offer a "fusion of laid-back luxury, high-energy nightlife and exclusive guest room retreats and spa services."
The hotel presents the ideal destination to experience the unique cuisine of celebrated Chef Nobu. It will feature a Nobu Restaurant within an idyllic setting including an outdoor cabana-styled dining terrace situated on an exclusive platform deck with views of Manila Bay.
Nobu Hotel will offer exclusively to its guests a special in-room menu carefully crafted by Chef Nobu. Guests can also enjoy the Nobu Tea Lounge in the lobby.
"The partnership, with one of the world's leading foremost luxury lifestyle brands within City of Dreams Manila, is a further step in realizing our overall vision to deliver world-class and diverse innovative lifestyle and entertainment offerings to broaden the appeal of the Philippines as a leading leisure destination in Asia," Ho added.
Melco will announce the third hotel brand in the next few months.