By
Phil
- 18 September 2017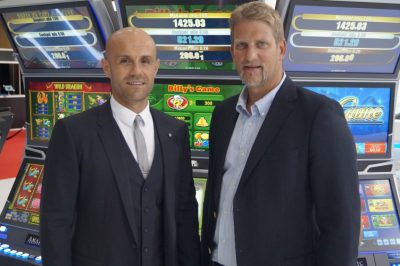 Operators and players in Romania have become accustomed in the past years to have the latest and very best gaming technology available. Amatic Industries has made an important contribution here – together with local partner Newton.
The Romanian gaming show – the EAE – took place in Bucharest between September 4 and 6 and Newton again took prominent position – directly at the entrance – so that all visitors could instantly see how stylish the Amaticslots are.
The Performer Grand Arc slant-top (PGA) took central stage of the stand and drew in the visitors to learn more about the benefits of having Amatic on the gaming floors. Naturally many of these visitors are already customers and reported on the significant impact that have enjoyed by offering Amaticsolutions to players in Romania.
The perfect synthesis between hardware and software is what makes Amaticso special. The PGA set the trend in Europe with curved slot design and this leading role in innovation is what makes Amatic the company it is. Naturally AMATIC is synonymous for MULTI GAME – and the latest games were on display at the EAE.
"We have given our MULTI GAME a new face that was very well received. We believe this will help players even more to find exactly the type of game they are looking for. We literally have the right game for any type of player", explained Mr. Thomas Engstberger, Sales Manager at Amatic Industries. These games include the brand new released Amatic titles like `Enchanted Cleopatra´, `Fabulous Poseidon´ or `King of Dwarves'.
Yet another reason to choose Amatic is the fact that all the latest slots include the powerful and secure Hardrox hardware platform. This future-proof technology gives Amatic the leading-edge in the market.